It's official. The most followed Lao person on Facebook is Boualai (ບົວ ໄລ). This avid eater has got more followers than Kaem Boom, Noony, Larnoy Phorjai and Somchan, to name a few of the most followed celebrity idols in Laos.
Boualai has won the internet, or at least the many of the users of Facebook anyway, by posting candid videos of himself eating in the most mouthwatering way possible. The things that he is shown eating are magnificently delicious – some extremely seasonal and exotic – Lao dishes: sour, unripe mango and tamarind dipped in sweet and salty fish sauce, spicy beef larb with live ants and eggs, papaya salad, fresh fruits picked from trees, grilled chicken, dried fish, clams, etc.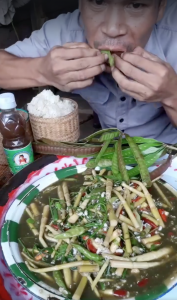 Boualai puts particular emphasis on natural and fresh foods, often picking, hunting, fishing, gathering and preparing his own meals. Most of his dishes are salty, sweet, sour and spicy – all at the same time. This is how many Lao prepare their food, and probably why it appeals to so many. Both the visual appeal of his masticating jaws and the crunchy-munchy sounds they make are more than enough to make you hurry to the market and buy some papaya and start slicing and dicing.
The voracious eater typically ends his videos with a signature comedic twist where he either burns his tongue while cooking or drops his entire plate into the river.
With 620,620 followers (at the time of this article's writing) from all over Laos – and many from non-urban areas, it is no wonder he has been approached by a number of commercial food brands to use their products in his cooking and eating demonstrations.
A man hailing from what appears to be Champassak Province, Boualai has recently been seen making videos in support of Visit Laos Year 2018, visiting different places to raise their awareness locally and abroad.
It is undeniable that Boualai's videos have brought much attention to Lao cuisine, highlighting the easy-to-make but tremendously flavorful taste of the various ingredients used.
Boualai's most famous video, with over 16 million views, is this one seen below where is eating papaya salad on a tree branch that eventually breaks, hilariously plunging him into the watery depths below him.