Inthira Hotels & Restaurants presented Laos' biggest ever basket of sticky rice (khao niao) at the opening of LAOFOOD 2018 Exhibition, held at the National Convention Centre in Vientiane from 7-9 July, while also taking home honors at the event's hospitality and culinary competitions.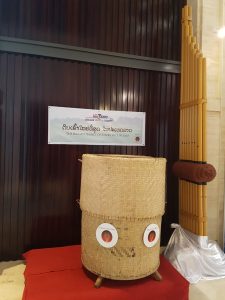 The massive basket of sticky rice, a Lao staple, took center stage at the opening of the expo overseen by Deputy Minister of Information, Culture and Tourism Ounthuang Khaophan, Lao National Chamber of Commerce and Industry President Oudet Souvannavong, and the Lao Hotel and Restaurant Association Deputy Director Pakasith Chantapanya.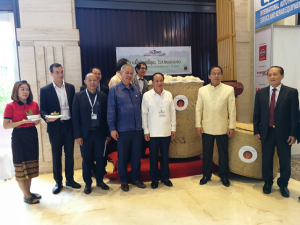 Inthira also sponsored the event's VIP Lounge, catering for all visitors and exhibitors with special dishes from the hospitality group's Khop Chai Deu and Samba Xayoh restaurants.
Inthira showed well at the exhibition's competitions, with Samba Xayoh Brazilian Steakhouse snatching a silver medal thanks to its chefs Noutchana Vongxay and Chantachon Lounnalath. Inthira bartender Khamphay Keophanya was voted best "personality style" for Lao Bartender of the Year.
Inthira's Suntara Restaurant also stood out at the bartending competition with Phasouk Bouaphang mixing the best classic cocktail, and grabbing a third place for Laos Bartender of the Year.
Souvankham Xayparserth from Khop Chai Deu participated in the Bartender of the Year, and was recognized for his "most instagrammable garnish".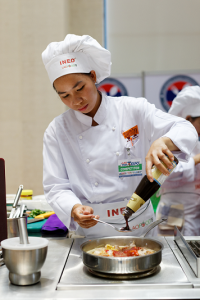 During the three-day event Suntara hosted the first anniversary party for the Singapore Business Association in Laos, with Singaporean Ambassador to Laos H.E Dominic Goh as a special guest among the 75 attending the networking event.
Suntara also hosted the "Chef's Table" after the closing of LAOFOOD on 9 June. The eight-course dinner with three wine pairings was designed around the five elements of life: water, fire, wood, metal, and earth.
The dinner was orchestrated by chefs Vincent Ng, Ronnie Seng Who Lee, and Fabian Teo, winners of the National Gourmet Team Challenge at Food & Hotel Asia 2018 in Singapore, who came to Vientiane especially for this venue.