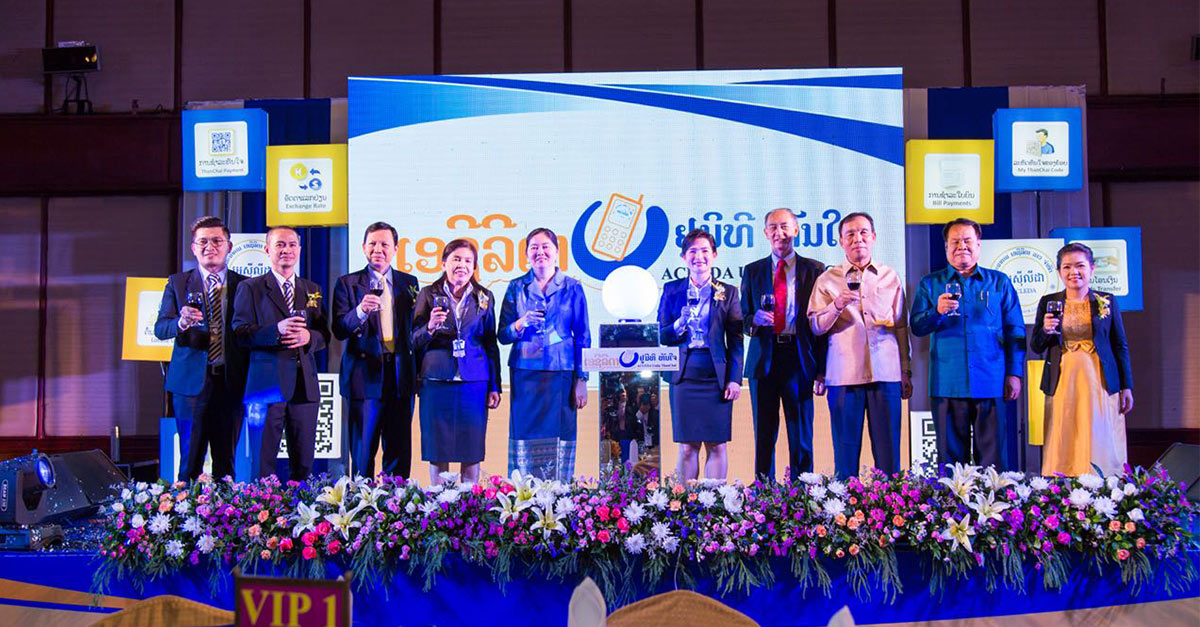 ACLEDA Bank Lao announced yesterday launched its new "ACLEDA Unity Thanchai" mobile phone banking service. A virtual 'bank in your hand,' it provides a convenient and secure way to manage all daily banking transactions anytime and anywhere. It is available in both Lao and English languages and handles transactions in LAK (Lao Kip), USD (US Dollars) and Baht.
"Our aim is to offer access to financial services to the whole community", said ACLEDA's Managing Director/CEO Dr. Hay Svay. "ACLEDA Unity ThanChai, also known as 'ACLEDA ThanChai', works with all mobile phone networks and a very wide range of mobile handsets. It 'unites' a whole selection of financial services under one umbrella that simplifies day-to-day banking through mobile phones anywhere in the country," he stated.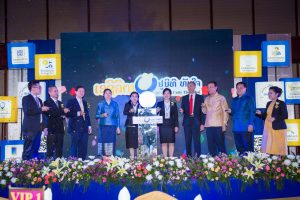 The app is available on a 24/7 basis and possesses high-level multilayer security features. Customers can view their account balances, obtain mini-statements, transfer between their accounts, transfer from account to mobile number, make payments to other people, make bill payments (pay their utility bills, etc), top-up their mobile phones and pay for other goods and services via QR Code anytime and anywhere right from their personal mobile phone.
By tonight, the bank is expecting the number of downloads and registrations for ACLEDA ThanChai to reach 5,000 and the number of QR Code partners to reach 177. Other services will be added in the near future according to customer demand.
"As a fast-growing bank in a rapidly developing economy, we are looking for a complete integrated mobile banking and payment solution. We want to make sure that our mobile services are universally available to our customers, are safe for them to use and deliver the dependability and reliability that ACLEDA is known for," said Svay.
"We will be leapfrogging over traditional delivery channels to provide our customers with the latest banking technology."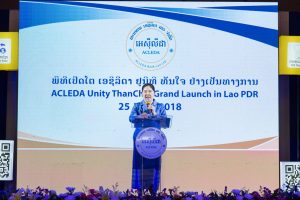 About ACLEDA Lao Ltd
ACLEDA Bank is a subsidiary of parent company ACLEDA Bank Plc, which currently has 41 branches and offices nationwide, with over 10-year presence in the domestic financial services sector. At the end of May 2018, the value of the loan portfolio has reached US$115 million with 32,981 borrowing customers. The total savings and deposits was US$92 million with 107,244 accounts. Its total assets was US$158 million and employed 1,064 staffs.
The Bank offers a wide range of banking products and financial services to corporate and retail customers through a variety of delivery channels. ACLEDA is a player in the retail banking market and services its large customer base through a broad network. With 56 ATMs, 80 POSs and ACLEDA Thanchai for customers to have access to the bank's services anytime and anywhere.
For more information contact:
Kaysone LINTHONG,
Head of Marketing Department
Tel:020 9300 0212
Email: kaysone@acledabank.com.la