Laotian Times rounds up some of the highlights of the Lao social media scene for the week.
Special T-shirt Airs Graduate Job Hunt Grievances 
Recent graduates in Laos often complain about the practice of paying to secure jobs in companies or government. Some have made shirts as a form of silent protest with the hashtag phrase "I don't have money to buy my way into a job" that have been spotted around town in the nation's capital and beyond.
Reprimand for Slanderous Accusations of Extra-Marital Dalliance via fake FB account 
Police called in Ms Makky, a 23-year-old girl from Savannakhet to issue a stern warning for creating a fake a facebook account allegedly defaming a Ms Nanthida. Ms Makky had accused Ms Nanthida of being a mistress to Ms Makky's husband. A complaint was made to the authorities, and Ms Makky was called on to apologise to Nanthida for the slander, leaving online readers to ponder who might have been responsible for conducting an extra-marital dalliance with her spouse, if any.
Miss Laos World Sash Spelling Errors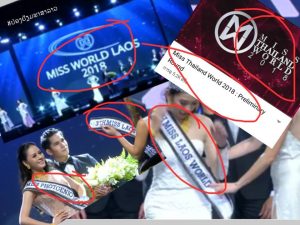 Officials and organizers of the Miss World Laos competition, part of the larger Miss World contest, have come under fire for misspellings in their marketing materials, including the name of the contest as printed on the winner's sash, sparking debate about English proficiency in Laos.
Official Corruption-Related Dismissals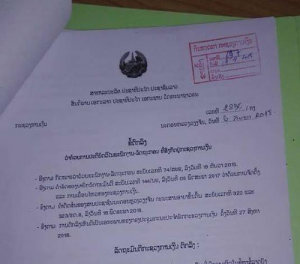 A list of names of officials dismissed from duty in the Ministry of Finance on charges of corruption has gone viral on Lao social media. The public has taken to social media applauding the decision, while some questioned the apparent leniency of punishments meted out to the offenders.
The views and opinions expressed in this article are those of the authors and do not reflect the position of the Laotian Times.