Happy International Volunteer Day!
Countless and myriad. Such are the contributions of volunteers to making our communities better places to live, no matter where on the globe we call home.
Both Lao and international volunteers efforts in Laos were recognized for World Volunteers Day in the capital Vientiane Wednesday evening, with a celebration set to recognize efforts in building resilient communities.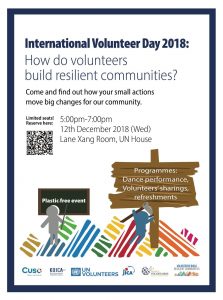 Personal actions matter for community resilience.
At the event at Vientiane's UN House, volunteers from multiple organizations were preparing to gather to share how they help build resilient communities.
Among these were official assistance volunteers in the form of United Nations Volunteers (UNV).
Joining them was Cuso International, is a non-profit development organization, whose goal is to work alongside local people in other countries, to improve the lives of people living with poverty and inequality.
Official assistance volunteers from France Volontaires and those of cooperation agencies from Japan (JICA) and the Republic of Korea (KOICA) were also in attendance as were members of Global Shapers Vientiane Hub, a World Economic Forum youth initiative.
Insights and inspiration from volunteers on the ground were set to be shared, along with dance performances and networking opportunities.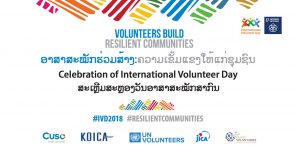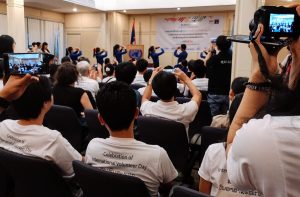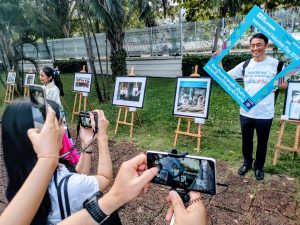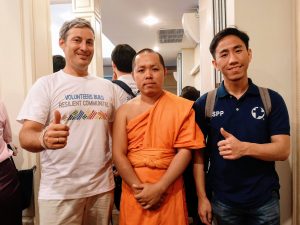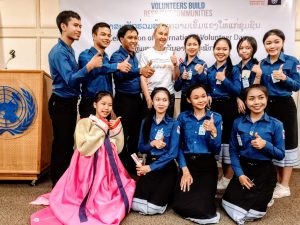 UN Representative's Message
Addressing the gathering was UN Resident Coordinator and UNDP Resident Representative Ms. Kaarina Immonen.
"The International Volunteer Day (IVD), which was established by the United Nations in 1985, is an initiative to recognise contributions to development agenda made by volunteers, organisations and communities, joining by hundreds of thousands of people worldwide," Ms Immonen said.
"Since 1983, more than 1,100 UN volunteers have served in Lao PDR from over 60 countries, and around 30 UN volunteers serve annually in various UN agencies, project offices and Lao government ministries.
"They devote themselves in constructing better future for the Lao population in different fields.
"This year, our campaign set a closer look on how local community volunteers contribute to building resilient communities.
"In the 2018 State of the World's Volunteerism Report released lately, it stated volunteerism provides a mechanism for channeling individual actions into collective strategies for coping with risk.
"These strategies help build social relationships, forging bonds of solidarity, enhance trust, expand people's support base and lessen their vulnerability to shocks and stresses.
"When Laos was hit by the worst flood in its history last July, UN volunteer was one of the members of our emergency response team to supply food donations and clothes to the affected communities.
"Our volunteers sustain their support to the communities by coordinating disaster relief tasks, educating rural communities and ethnic groups on disaster preparedness through community radio, assisting Unexploded Ordnance clearance in flooded areas, raising Lao population's awareness on climate change issues, encouraging them to take climate actions and promoting environmental sustainability.
"We would like have our locals to learn how different sectors work on community resilience.
"Therefore, UN Volunteers Programme in Lao PDR decided to commemorate the International Volunteer day by inviting different partners to share their volunteer experience, encouraging the public to get involved in volunteerism in their own ways."
PM Thongloun asks for insights from Japan's volunteers
Earlier in the week, insights and impressions from experiences at the grassroots was the Prime Ministerial request.
Members of Japan Overseas Cooperation Volunteers (JOCVs) and Japan's Senior Volunteers (SV) were hosted by Mr Thongloun Sisoulith and senior officials on for an annual courtesy call and informal exchange on Monday, December 10.
According to the Embassy of Japan, Mr. Thongloun expressed heartwarming appreciation for volunteers' daily efforts. The volunteers also reported on their activities and challenges that they directly are facing on the ground.  In response, the Prime Minister made comments on the initiatives being made by the Government of Laos.
Japan has been dispatched Japan Overseas Cooperation Volunteers (JOCVs) since 1965 and Lao PDR is the first country in the world which received the volunteers from Japan.
Since then, 992 Volunteers have been making efforts to solve development issues in various sectors together with the people of the Lao PDR. The 1000th Japanese volunteer to Laos is set to arrive in early 2019.