Asian Para Games gold medal-winning powerlifter Pia Laophakdee among those to get recognition via Prime Minister Thongloun Sisoulith on road to Tokyo2020.
Well, the festive season in the rearview mirror and like it or not, 2019 is now well and truly with us.
Those of us fortunate enough to get a break are heading back to work and regular activities and sporting pursuits with various levels of enthusiasm.
One group of people who need little additional motivation but could do well with all the support they can get are Laos' elite athletes like Asian Para Games gold medalist Pia Laophakdee who will be striving towards their sporting goals.
With Tokyo 2020 Olympic and Paralympic Games now just over the horizon, efforts to train, prepare and compete are in full swing.
Recogizing these efforts recently was no less than Prime Minister Thongloun Sisoulith, who presented recognition and encouragement to the countries medal-winning athletes at an award ceremony held in Vientiane.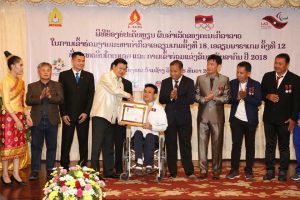 The Prime Minister also awarded the efforts of those who have helped the athletes achieve success, including coaches and administrators.
Also recognized were staff of Japan-based, Laos-active NGO Asian Development with the Disabled Persons (ADDP) who are lending assistance to efforts via the Para Sports Promotion Project that receives support from the people of Japan via its government and development arm, Japan International Cooperation Agency (JICA).