Laos' Powersports powerlifter Pia captured a gold medal Sunday at the Asian Para Games 2018 in Indonesia in the 49kg Men's Division after successfully lifting 133 kilograms.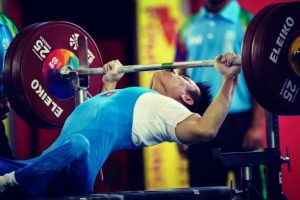 Pia is now qualified to compete for glory at Tokyo 2020 Paralympic Games. Pia received plenty of cheers from his team of competitors, coaches and administrators, with his victory covered by paralympic.org.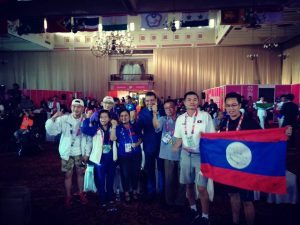 "Since I have my disability for a long time, I would like to promote how to overcome a disability, to be strong and healthy," the powerlifter was quoted as saying.
"I plan to go to Dubai for my next event, this is the world championship. After that I will go ahead to the Paralympics in Tokyo 2020."
The win comes after expert training for the powerlifter and his teammates in Beppu, Japan under the guidance of experienced competitor & coach, Japan's Takashi Jo, followed by competition at the Kitakyushu 2018 World Para Powerlifting Asia-Oceania Open Championships.
The Lao Paralympic Athletes left Vientiane's Wattay Airport bound for Indonesia last week.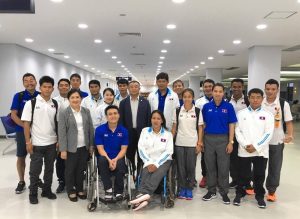 Parasports development in Laos receives assistance from Tokyo-based, Laos' active NGO Asian Development with the Disabled Persons (ADDP) with project funding support from the people and government of Japan via Japan International Cooperation Agency (JICA) via the Parasports Promotion Project.
The project involves providing training and expertise from Japan and beyond to benefit parasports athletes and coaches in Laos to compete in multiple sports, smoothing some of the bumps on the path to aid greater participation for all on the road to the Tokyo 2020 Paralympics and beyond.Wheelchair basketball and goalball, an adapted sport for the vision impaired, also feature in the project.
The latter sport was the subject of a short film inspired by the life and sporting efforts of Lao goalball athlete Ms La Dalavong, whose young life was forever changed by an accident by war-era unexploded ordnance (UXO) before discovering a path forward through sport. A Lao New Wave Cinema production, the film visited the inspiring athlete in her home village and on the sporting court in Vientiane.
Other ADDP initiatives include the sign-language friendly and inclusive Minna-no-Cafe where customers and staff alike can communicate with the hard of hearing. The NGO also works with its employees to produce a range of popular cookies which are for sale at various outlets including the cafe and was also a participant in efforts that saw the creation of a Lao-Japan Friendship Sakura Park in Viengxay district, Huaphan province planted with Japanese cherry blossom trees.
ADDP's efforts are also ably supported by Lao Fashion Week as seen in reporting by Laotian Times last month as the country and its capital celebrated the achievements of past and present participants and strengthening pathways, the dreams of the aspiring Paralympic competitors and fashion industry participants are nurtured alike.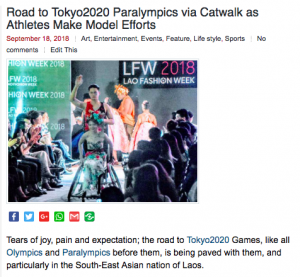 Congratulations Pia! Good luck one and all at Asian Para Games 2018 and on the Road to Tokyo 2020!!