Earth tremors in Laos north have been reported, with another quake of some 4.0 felt in the early hours of January 16 in Luang Namtha Province.
The data detections come via Thailand's Meteorological Agency seismologists, with confirmations made by the Ministry of Natural Resources and Environment in Laos.
The quake was detected at 21.11 ° N, 101.58 ° E at 0:26 local time.
It followed a smaller 3.0 tremor at 18:38 local time nearby in Luang Namtha's Ban Tintok (21.15°N , 101.64°E).
These followed a 4.9M quake was detected on January 10 in Ban Nateuy, Luang Namtha.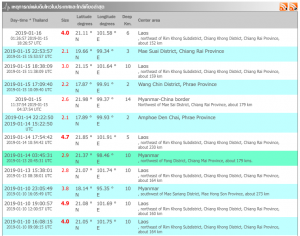 Another earthquake calculated at Magnitude 4.7 centered under Phongsaly province's village of Ban Ngay Neua was detected Monday evening of January 14, an official notice confirmed.
According to the Ministry of Natural Resources and Environment notice, the tremor at 17:54 measured a magnitude of 4.7 on the Richter Scale Ban Ngay Neua Village, Phongsaly Province (21.85N 101.91E) with no reports of damage.