Engaging on a new business venture is serious and potentially stressful business at the best of times, but a new list with information on regulated sectors is set to ease the minds of more investors considering the big dive in Laos.
Seeking to facilitate more entrepreneurial activity and investment from domestic and international sources, Lao policymakers including the nation's top leaders have been making moves to release a list of controlled sectors for investment (Lao language).
The new list makes mention of those sectors requiring extra permits under Lao laws and regulations.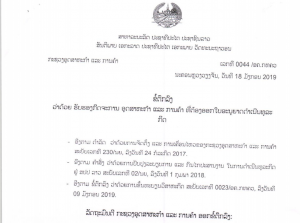 Prime Minister Thongloun Sisoulith approved the list of sectors that are subject to government control by way of Prime Ministerial decree issued January 10 regarding the list of controlled and concession-based businesses.
Sectors subject to considerations of national security, social order, and environmental protection and the respective regulatory authorities are spelled out in the list.
In various sectors not listed, operators are able to proceed to apply for a business and operating license from the commerce sector without having to consult any other state agencies, provided they do not otherwise contravene Lao laws, orders, decrees and regulations.
According to the list (as translated to English from original in the Lao language), permits are required for business operations in the following sectors:
Section 1: Alcoholic and other Beverages, Tobacco, Textiles, Paper and Packaging, Chemicals, Medicines, Rubber and Plastics, Minerals and Metals, Gaming and other Equipment, Waste and Recycling.

Section 2 (Domestic Activities): Wholesale and Retail sales of automobiles and motorcycles; Wholesale of anything except automobiles and motorcycles; Retail sales of anything except automobiles and motorcycles; Real estate activities;
Section 3 (Import/Export activities): Wholesale and retail sales and repair of automobiles and motorcycles; Wholesale of anything except automobiles and motorcycles.
Businesses of types not on the list should find it easier to operate, obtain an ID and operating license.
Steps in the right direction for investment
The codification of the list and relevant sectors is considered a significant development in the campaign by the government of Laos to facilitate an improved business climate nationwide.
Until the publication of the list, it was not stated clearly in a single place which regulatory entities potential investors must contact to obtain enterprise registration certificates or operating licenses.
Local and foreign investors seeking to operate one of the types of business listed must take all measures to comply with the relevant government controls and regulations.
The list spells out special conditions business operators must be ready to follow if their operations are deemed to reside within these controlled categories.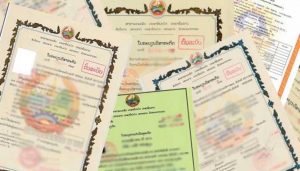 Laotian Times reports on business matters in and affecting Laos and the Laotian community abroad.