What's been up with (and in) the air we breathe?Smoggy haze and deteriorating air quality has seen folks in Laos' capital and beyond reaching for face masks, air filters and measuring equipment.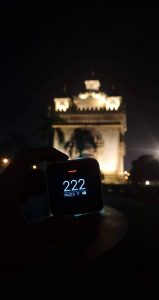 What they have found has been enlightening and disturbing. Air quality over much of Laos & Northern Thailand has taken a major dive with high levels of airborne particulate matter visible to the naked, eye-obscuring vision and respiration around the capital and beyond.
Multiple factors including local and transboundary emissions adding to high ambient levels propelled by air currents and atmospheric pressure are likely to be contributing to the ongoing malaise that knows no borders.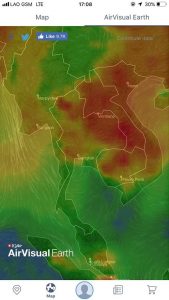 Local and transboundary sources of airborne particulate matter have been contributors, primarily forest fires in neighboring countries as well as in Laos for land clearing purposes.
#ทางของฝุ่น วิดีโอแสดงผลการพยากรณ์ฝุ่นละอองขนาดเล็กไม่เกิน 2.5 ไมครอน (PM2.5) ช่วงตั้งแต่วันที่ 10 – 12 มีนาคม 2562 (จุดสีดำคือจุดความร้อนหรือ Hotspots 48 ชั่วโมงที่ผ่านมา ที่คาดว่าเกิดจากการเผา ที่เซ็นเซอร์ MODIS จาก NASA ที่ตรวจจับได้) #ประเทศไทยไร้หมอกควัน #HazeFreeThailand #วช #NRCT #RCCESCMU

Posted by RCCES CMU on ວັນຈັນ ທີ 11 ມີນາ 2019
Forest fires in Vientiane's Sangthong district, now largely extinguished, have only added to the issues.
Now, the relevant authorities from the Ministry of Natural Resources and Environment have issued a report on the situation.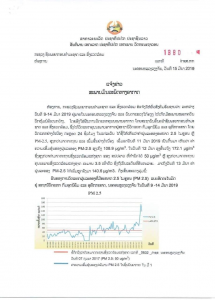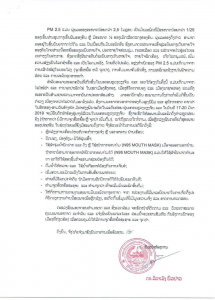 Dated Friday March 15, 2019, it reads:
"Ministry of Natural Resources and Environment announced that from 9-14 March, in Vientiane Capital and nearby provinces, reports of smog around these areas, based on the research from Institute of Natural resources and Environment who has been monitoring the density of PM 2.5 particles 24 hours per day.
The results showed that PM 2.5 particles had been much higher than the average and had been increasing rapidly through the 14th. 
On 11 Mar, Total suspended particulate was 108.9 µg/m3; on 12 Mar, 172 µg/m3; On 13 Mar, 140.6 µg/m3
The average of particles in Laos that the government determined is 50 µg/m3.
The TSP now is higher than this standard by 3.5 times.
The tables show the results of monitoring PM 2.5 automatically at the meteorological station from 9-14 Mar
The tables show the results of monitoring PM 2.5 automatically at the meteorological station from 9-14 Mar
The causes of this situation are from the forest fires and deforestation for agricultural purposes at Sangthong, Sikottabong, Nasaythong Districts, and also the airborne matter from neighboring countries.
At present, the situation is improving because forest fires are being extinguished.
Based on the weather forecast that during 17-20, there will be rain in some areas in Vientiane Capital which will make the situation better (if people don't burn garbage and there are no more forest fires).
"Particulate matter 2.5 (PM2.5), refers to tiny particles or droplets in the air that are less than 1/25 of human's hair radius or 1/2 of the erythrocyte.
Particles in the PM2.5 size range are able to travel deeply into the respiratory tract, reaching the lungs where can lead to a respiratory syndrome, wheezing, allergy and can lead to cancer.
In General, PM 2.5 came from burning in open area (burning garbage or deforestation), from vehicles and transportation, factory emmissions and thermal energy production.
However, To prevent health concerns and minimize risks, the members of the public are suggested to:
1. Try not to do outdoor activity,
2. Close door and windows
3. Wear a wet mask or N95 mouth mask before going outside the house. If you don't a have a special mask, you can wear a double mask instead.
4. Drink more water
5. If you experience respiratory issues, go to a hospital or seek professional medical advice immediately.
6. Don't burn garbage and deforest as it leads to increased particles in the air.
7. Follow the news from registered units to avoid fake news."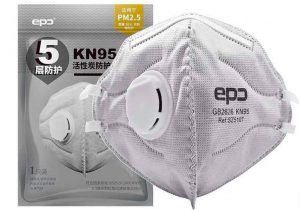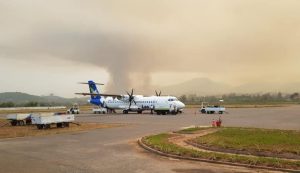 Smoke from Fires Visible At Oudomxay Airport (Lao Youth Radio)