How a Self-Trained Cartographer Made the Best – and Only – Maps of Southern Laos
Following the trails of mapmaker Nicholas Klein brings me deep into the hills above Pakse. We wade across thin streams, swat away hairy branches, and finally creep out of the dense forest to a wide opening. Nicholas surveys the view with approval. "And they say there is nothing to see in Pakse," he says wryly, referring to dismissive reviews in guidebooks and travel blogs. Lonely Planet calls Pakse a "comfortable and convenient" launching point to better destinations. Other accounts are less generous: "there isn't much to do in the city," writes one report in Backpacker magazine. The sight before us of bushy mountains, red dirt road and sprawling woods below, suggests a nugget of what has been left out of write-ups.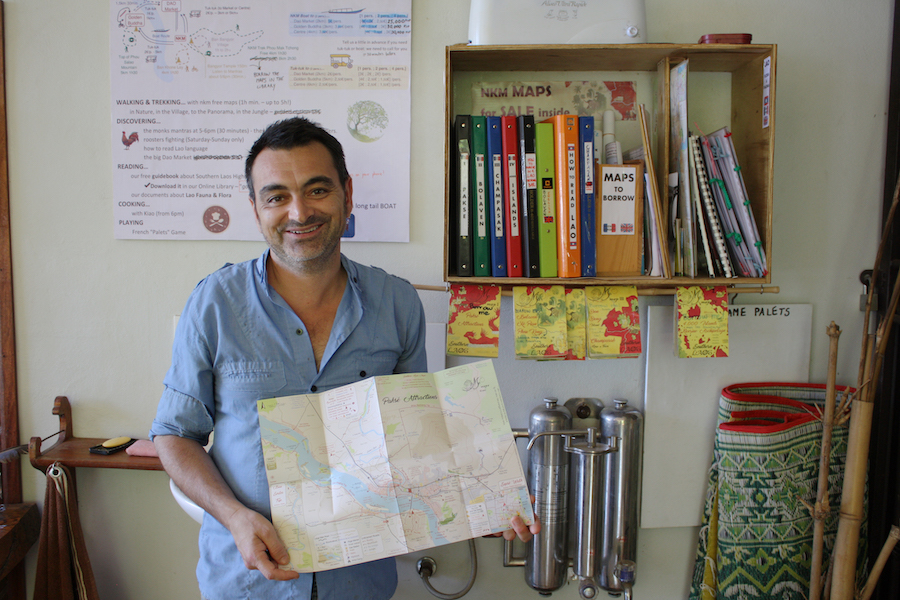 Nicholas has spent the last three years creating maps of destinations across Southern Laos, from the laid-back 4000 Islands to the waterfall-abundant Bolaven Plateau. Because of the dearth of tourism resources in Southern Laos, Nicholas' are the best – and really, the only – maps of the region. His "M-Maps" can be purchased at Monument Books in Pakse, although photocopied versions, stripped of many detours and details, are ubiquitous, distributed by motorbike suppliers, hotels and guesthouses alike. Lately, he's focused on developing walking routes and itineraries that take visitors off the four-lane streets in Pakse's center to explore the trails locals use for hunting, collecting herbs and pleasure walking. Nicholas hopes these might help disperse foreigners so they don't crowd particular destinations.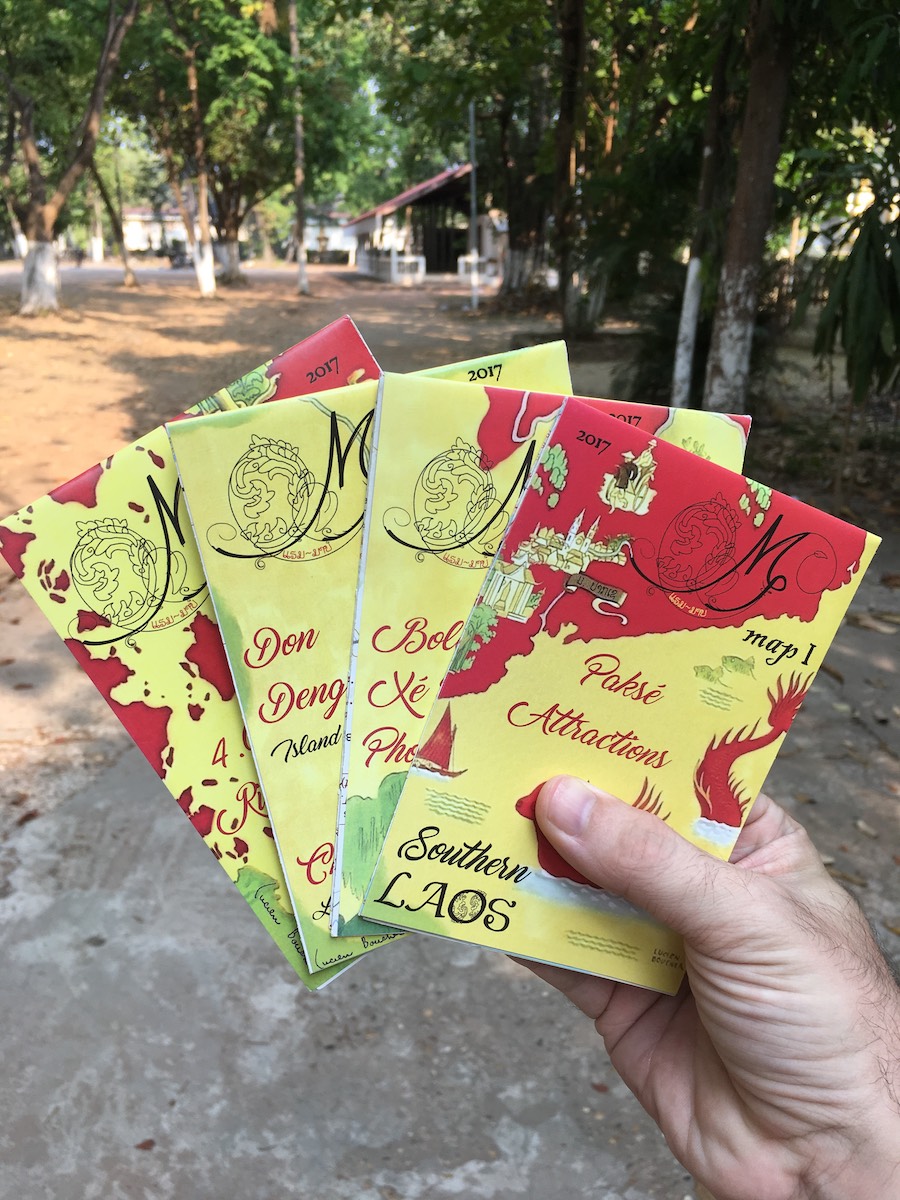 Nicholas' mapmaking started as a hobby, a way of documenting and sharing with others his favorite attractions in Pakse. When Nicholas arrived in 2003 – less than three decades after the country's civil war – few other foreigners were traveling in the region. He was following a French girlfriend at the time, and although their romantic relationship was short-lived, Nicholas fell in love with Laos and decided to stay. He remembers staying up late to wander Pakse, kept up by his "hyperactive" mind, and his curiosity and wonder at new sights. "I felt like a private investigator finding out the names of trees, fruits, foods, and everything else," he recalls. When Nicholas ran into other newcomers, he wanted to share what he'd seen, so he drew maps on scraps of paper to guide foreigners to local experiences and sights they might have otherwise missed. "I wanted people to discover all these lovely things, but there were no tools," Nicholas explains. Relying on rather basic computer apps, he began creating digital maps, then a website, and eventually polished off a final version to be professionally printed. A few years ago he opened a homestay, a lovely operation nestled on the Mekong, which he currently runs with his wife, Kiao and daughter, Marie. The three now use his maps to create itineraries and guide travel plans for visiting guests.
As Nicholas readily offers up, he likes to chat. (A shaman once informed him he was a talkative bird in a past life.) Maps became an outlet for his love of chatter, inspired by the experience of conversation. "I print maps to answer questions," Nicholas says. "I think about what I'd want to tell someone about a place and translate it into a map."
His maps include popular tourist haunts but offer alternative, local attractions like temples, bakeries, karaoke and live music halls, markets and vegetable gardens. They are also imaginative, punctuated with colorful observations and humor. Back in Nantes, France, Nicholas played a solo act as a rock musician. He sees creating maps as another use of his "creative spirit."
What do these maps provide when most have a powerful, accurate GPS in their pocket? Nicholas scoffs. The two can't be compared, he insists. Indeed, it's hard to imagine sterile Google Maps calling attention to a "surprising small bridge," a "genuine Pakse street maze" or a "high-speed chicken crossing." Pouring through feels like briefly inhabiting Nicholas' world, with all its idiosyncratic attention to detail – demanding appreciation for a tall tree, or else commanding wonder for the thin, curving trails that carve into the woods around the city. The primary purpose of reading a map connects to the basic premise of taking a trip to see someplace new, in Nicholas' words, "If you are a traveller, you should be curious and interested in opening your mind."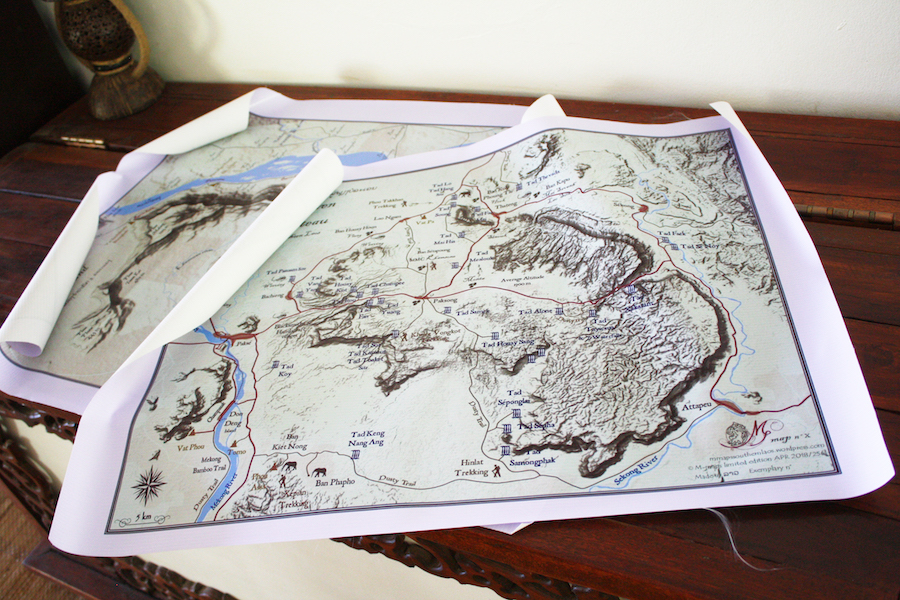 Credit: Champa Meuanglao Magazine