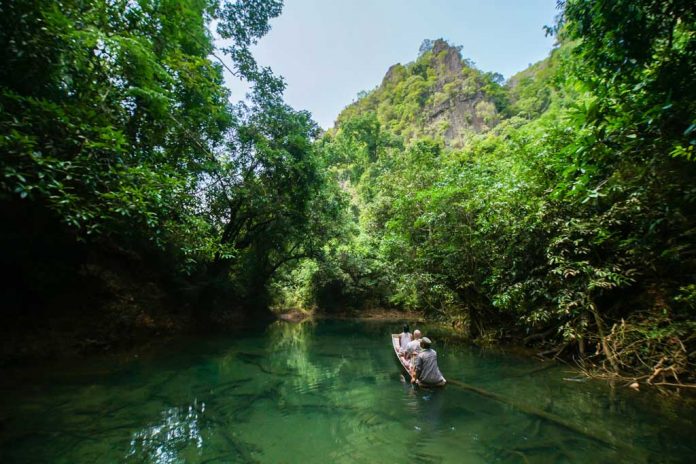 Laos has seen a dramatic increase in the number of South Korean tourists over the past few years after the reality TV show, "Youth Over Flowers," featured Korean actors visiting famous locations in Laos, particularly in Vang Vieng.
The number of visitors from South Korea to Laos grew in 2015 and 2016, finally beginning to plateau in 2017. The overall market share of South Korea rose to 4.4 percent in 2017, however, according to a report by Laos's Ministry of Information, Culture and Tourism. The number jumped from 96,085 in 2014 to 170,571 in 2017.
South Korea's tourism industry took advantage of this trend, launching a series of package tour programs targeting those who wanted to follow the same itinerary presented in the show.
As of this writing, it is still not difficult to find "TV show-themed" tourism programs in South Korea, luring customers with the same old itinerary they developed several years ago.
While Laos still attracts Korean tourists, especially in Vang Vieng, many of these do not make a second trip to Laos.
And this issue is notable among visitors from other countries as well.
According to the latest survey conducted by the tourism ministry, only 7.9 percent of respondents said it was their returning visit to Laos. In contrast, first-time visitors accounted for 75.2 percent.
The Lao government has invited 12 representatives from Malaysia, Singapore, Thailand, China, Japan and South Korea to Bolikhamxay and Khammouane provinces, in a bid to promote other parts of the country.
The familiarization trip to the two provinces is taking place between July 12 and 17 and is designed to publicize some of Laos' tourist attractions and encourage the tour operators to include some of these locations in their package tours, according to the Vientiane Times on July 15.
The two provinces are considered lesser-known destinations for foreign tourists, compared with the Lao capital Vientiane or famous locations such as Vang Vieng.
Kettasone Sundar, Director of the Marketing Division of the ministry's Tourism Marketing Promotion Department, told the media that the program would raise the profile of the country's tourist attractions and the exciting destinations it can offer.
If the Lao government's goal is realized, more foreign tourists will visit the beautiful natural scenery of Bolikhamxay or Khammouane Province.
Laos attracted more than 4.1 million foreign tourists last year, an 8.2 percent increase from the previous year. Tourism generated revenue of more than USD 755 million in 2018.
Meanwhile, it is expected that at least 4.5 million people will visit Laos this year, generating revenue of more than USD 700 million.
Photo: Champa Meuanglao