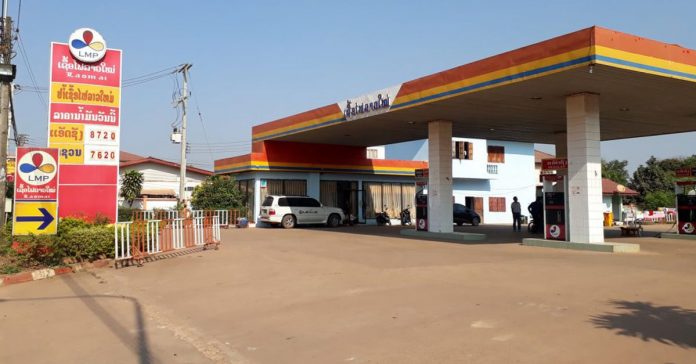 Laos will tighten regulations on the location of fuel depots and gas stations in residential areas to ensure the safety of residents.
According to a newly amended ministerial decision, fuel depots must be located one kilometer from residential areas, schools, hospitals, protected areas, temples, and rivers.
As for gas stations, they should be located 100 meters from residential areas, key government buildings, temples, and television and radio stations.
In addition, gas stations must be equipped with a fire-fighting system, according to the new rule. This means that water must be ready for use in the event of a fire.
Petrol stations also must employ at least one person who has been certified as having completed a course in fire control.
Apart from that, the distance between two gas stations should be 5 kilometers on highways under the new rule, which is expected to encourage business operators to open new gas stations in areas where none already exist.
The move is designed to prevent accidents and ensure that such facilities do not cause harm to these compounds or people who live nearby, according to a report in the Vientiane Times.
The new regulations come amid the rising popularity of gas stations across Laos. The country has witnessed an increase in the imports and consumption of petroleum products over the past few years, in line with a rise in vehicle ownership.
For instance, imports of gasoline increased from 187,755 kilograms in 2010 to 234,199 kilograms in 2015, according to Lao PDR Energy Statistics 2018 by the Economic Research Institute for ASEAN and East Asia.
During the same period, the consumption of gasoline also jumped from 187,755 kilograms 223,318 kilograms.
At the same time, some people have expressed concern over the possible impact of fires or other accidents at gas stations amid lax regulation.