Cambodia's Meal Temple Group has launched its new DriveUp ridesharing service in Laos, becoming the second player in the country after locally-grown LOCA.

Meal Temple, which was established in 2013, made its first foray into Laos in July by purchasing an existing food delivery service mobile application, MyDelivery, from local fintech firm Kiwi Group. The company currently has a presence in Myanmar, Nepal and Bhutan.
The group's move to launch a ridesharing service in Laos comes amid the growth of the country's tourism sector.
"Laos is the new eldorado for tourism in the Mekong region, after Cambodia, with more than 5 million tourists yearly already, growing at a fast rate, expecting to double in the next ten years and accounting for more than 15% of the country's GDP," the group said in a statement.
The latest figure shows that the number of domestic and foreign tourists holidaying in Laos during the first nine months of this year increased compared to the same period last year.
More than 3.4 million people vacationed in Laos in the first nine months of this year, an increase of about 11 percent compared to last year, while the number of visitors from China soared by 26 percent, according to the Tourism Development Department, Ministry of Information, Culture and Tourism.
Laos attracted more than 4.1 million foreign tourists last year, an 8.2 percent increase from the previous year. Tourism generated revenue of more than USD 755 million in 2018. The country hopes to attract at least 4.5 million people this year.
The company's main strategies to appeal to the customers as a newcomer are to provide lower costs while reducing wait time for its customers, said Ms. Angele Fargette, product manager for DriveUp in Laos.
The service currently has about 100 drivers available in Vientiane, and it plans to add more while looking into the possibility of expanding the service to other major cities in the country.
"Vientiane is the perfect city to test our service for the first time, as competition is really small, prices are really elastic depending on cars, drivers and customers, and tourism is growing, so the market is ripe for disruption here." Ms Angele added.
LOCA sees ridesharing competition as opportunity
Having a new competitor might be alarming for existing player, LOCA, but founder Mr. Souliyo Vongdala rather sees it as an opportunity to grow his service further.
Mr. Souliyo told The Laotian Times that the company is currently focusing on improving the service quality along with the welfare of its drivers and overall safety standards for both drivers and customers.
"Our sales volume has grown 600 percent since the launch in 2018," Mr Souliyo said. "I believe it's time for us to focus on the quality of the service."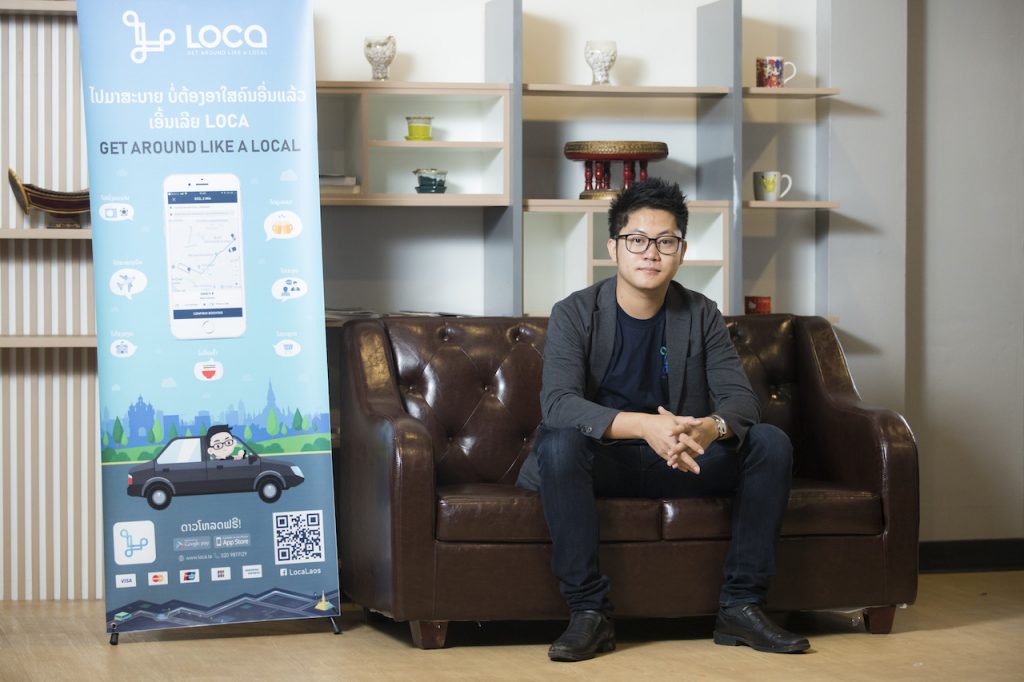 Mr. Souliyo cited its competitive hiring process for LOCA drivers as an example.
"We currently have about 300 drivers in Vientiane working as a LOCA driver. They have to go through a competitive screening process, and we reject a lot when they fail to meet our standards," he said.
Mr. Souliyo said the company regularly monitors feedback from customers and provides training and coaching to its drivers.
He also cited the company's efforts to improve its customer service, so that the company can respond to the customers' complaints or feedback in a timely and professional manner.
There are a total of 33 dedicated officers at the company who respond to such complaints or feedback, and the company is the process of adding more, said Mr. Souliyo.
In addition, Mr. Souliyo stressed the importance of improving the safety standard of the service for both drivers and customers.
Many ridesharing services in Southeast Asia either do not have proper insurance for their drivers or customers or have a wrong kind of insurance, which cannot cover different types of incidents that could occur during the operation of the service, Mr. Souliyo explained.
By recognizing the issue, LOCA is currently looking into ways of providing proper insurance for its drivers and customers, which could improve the overall safety standard of the service, he added.
In fact, LOCA signed a cooperative agreement last week with Vientiane-based insurance firm Lanexang Assurance Public Company in a move to enhance the protection standard of the service.
With the agreement, two companies will start providing standard insurance coverage for LOCA service, while exploring healthcare for its drivers.
"This cooperation will be the initiative to set a new standard for passenger transportation. LOCA wants to lift this standard to enhance public awareness about [the importance] of the protection when they are using public transportation service," Mr. Souliyo said at that time.