The leaders of South Korea and the five Mekong nations agreed Wednesday to prioritize cooperation in seven fields, stepping up efforts for synergy between Seoul's development experience and the Mekong region's huge growth potential.
The seven sectors are culture and tourism, human resources development, agriculture and rural development, infrastructure, information and communication technology (ICT), environment, and non-traditional security challenges, according to a joint statement issued after the inaugural Mekong-Republic of Korea Summit in Busan.
The document is titled "Mekong-Han River Declaration for Establishing Partnership for People, Prosperity and Peace." President Moon Jae-in and the leaders of the Mekong five — Cambodia, Laos, Myanmar, Thailand and Vietnam — laid out a vision for closer partnerships in the pursuit of a Mekong River miracle.
They agreed to "work together to bring about economic development and prosperity in the Mekong region, akin to the Miracle of the Han River, the rapid economic development that the ROK has experienced," the Busan declaration read. It used the acronym of South Korea's official name, the Republic of Korea.
They also agreed to "develop ICT-driven projects including e-Government and Smart Cities that will promote digital economy toward the 4th Industrial Revolution and technological advancement in the region based on the shared vision that ICT is a driving force for innovation, sustainable economic development and prosperity in the region," it added.
For sustainable development, the two sides plan to establish a joint "biodiversity center" to contribute to biodiversity conservation in the Mekong subregion and a "water resources joint research center in South Korea.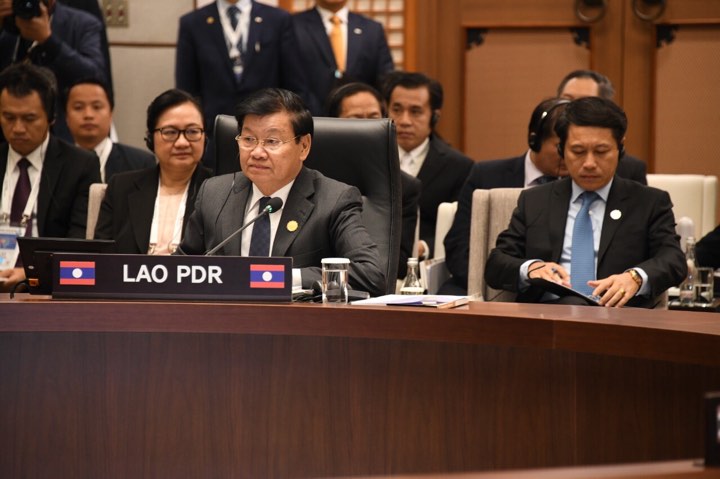 Kicking off the session at the seaside Nurimaru APEC House conference hall earlier in the day, Moon said that if South Korea's experience is combined with the "dynamics" of the Mekong region, the Miracle on the Han River will lead to the Miracle of the Mekong River. "South Korea will be with Mekong, with a belief that the development of Mekong is that of South Korea," he stressed.
Thai Prime Minister Prayut Chan-o-cha co-chaired the meeting joined by Lao Prime Minister Thongloun Sisoulith, Myanmar's State Counsellor Aung San Suu Kyi, Vietnamese Prime Minister Nguyen Xuan Phuc and Cambodian Deputy Prime Minister Prak Sokhonn.
Cambodian Prime Minister Hun Sen canceled his trip to Busan this week, citing his mother-in-law's poor health. Although Hun Sen was absent, Moon thanked him for proposing that the South Korea-Mekong summit replace an annual ministerial meeting that began in 2011.
"Mekong has become a land of opportunity," Moon said, adding that South Korea has become a "special friend" of Mekong, as it has forged relations of co-prosperity with ASEAN in preparation for the Asia-Pacific era.
South Korea-Mekong trade volume totaled US$84.5 billion in 2018, a 2.4 times increase over eight years. "Mekong has become a core development partner" to account for 20 per cent of South Korea's official development assistance (ODA), the president noted.