Almost a decade ago, the Lao Stock Exchange launched with only a few public companies. Now, it boasts 11 registered companies, all of which have been able to issue stock and raise over LAK 6.7 trillion (approximately USD 750 million). There are currently over 15,000 individual brokerage accounts that have invested in corporate stock in Laos' primary stock exchange.
"Over the past nine years since the 10th of October, we have had many successes," says Oth Phonhxiengdy, CEO of the Lao Securities Exchange.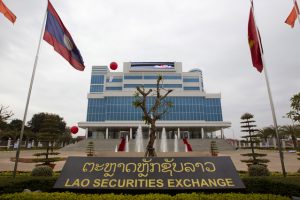 The stock exchange has allowed 11 local companies to finance their corporate activities by selling LAK 6.7 trillion worth in equity, an option that is financially more attractive than bank loans, where the borrowing company is legally bound to pay back its lenders with interest. A publicly listed company is not obligated to pay back the equity investment within any specified time frame.
The importance of a stable and growing stock exchange
With a modern and safe T+2 settlement system and its digital "Home Trading" system, the Lao Securities Exchange (LSX) has become known as a transparent and neutral entity in facilitating the process of buying and selling stock, raising the country's financial profile and making it easier to attract foreign direct investment.
By listing their stock on the exchange, local companies are able to upgrade their reputation and signal to the public that their companies are financially viable and ready for growth and expansion.
The listing also conveys the message that these companies are willing to go to the next step in terms of their business vision. In addition, as the principles of business transparency are paramount and implemented strictly by the Lao Securities Exchange, it becomes more convenient for the government to collect tax revenue from larger businesses.
Also, the efficiency and professionalism of stock exchange have had a salutary effect on investor perception on Lao government bonds, instilling trust and confidence in the government's governance capacity and economy.
As more and more companies list, it is expected that Laos will be seen as a destination for further investment, rendering the country higher on the Ease of Doing Business index, a policy strongly advocated by current Prime Minister Thongloun Sisoulith.
What's next for the LSX?
The LSX aims to generate further public awareness of the benefits of investing in stock and the value of a strong and stable exchange for the country's economic growth. By engendering a genuinely attractive investment climate and adhering strictly to strong corporate governance principles, the LSX hopes to be able to ensure that listed companies deliver dividends on time and attract even more companies to register on the exchange. It also expects to develop new financial products like Provident and mutual funds and incentivize more asset management companies to emerge.
Lao Asean Leasing Public Company (LALCO) is the latest company to register on the exchange, officially trading as of October this year.
The 11 companies that are listed on Lao stock exchange are: