World AIDS Day marked on 1 December brings forward the discussion on ending the AIDS epidemic by achieving "zero" by 2030: Zero New Infections, Zero Discrimination, and Zero Deaths.
About 1.7 million people globally were newly infected with HIV in 2018, while an estimated of 8.1 million people are still not aware that they are living with HIV. To realize the global ambition targets, enhancing collective efforts and cooperation is required at all levels.
In Laos, progress has been made towards the 2020 fast-track target, with 85% of the estimated 12,000 people living with HIV currently knowing their status. With the joint efforts of the Lao government, partners and civil society organizations, coverage of the services has been extended. The HIV prevention programs are currently available in five provinces for female sex workers and men who have sex with men.
Communities have been actively engaged in service delivery for the above-mentioned categories and transgender people for more than 10 years through peer-led services. People living with HIV make an essential contribution to the national and local response, working hand in hand with health service providers at 11 Antiretroviral Treatment sites to ensure that their peers get early treatment and good care and support.
"Exposure of population to HIV/AIDS is a cross-cutting issue which often carries negative implications in multiple dimensions. When this happens, it can slow the progress towards the national goals of the 2030 Agenda for Sustainable Development. It is important to support and enhance the efforts of the Government and partners, including at the community level, to ensure that Lao Generation 2030 is free from HIV, and the most vulnerable and marginalized groups are reached, so that no one is left behind", said Sara Sekkenes, UN Resident Coordinator in Lao PDR.
Despite the achieved progress, challenges persist, with only 54% of the people living with HIV currently having access to treatment. Attention should also be drawn to the alarming increase in HIV prevalence among men who have sex with men from 1.7% in 2014 to 2.5% in 2017, while in Vientiane Capital this indicator stands at 7%. The prevalence of sexually transmitted infections among female sex workers also stands at a high rate of 31%. Furthermore, adolescents and youth are especially vulnerable to HIV infections, as recent reports show that only 31% women and 46% men aged between 15-24 used condom in their last sex. The low HIV/AIDS knowledge among the general population also raises concerns, with only 19% female and 26% male having a comprehensive understanding of the subject.
"Greater mobilization of communities and investment is needed to ensure that the HIV/AIDS response remains relevant to fulfill Lao PDR's commitment to end AIDS by 2030", said Thongdeng Silakoune, UNAIDS Country Manager in Lao PDR.
One of the factors of Lao PDR's increased vulnerability to HIV/AIDS is the high HIV prevalence in the neighboring countries. In addition, one of the implications brought by large infrastructure projects such as dams, speed railways or highways, while necessary for the economic development, is the risk of increased exposure of the local population to HIV spread. The influx of male migrant workers, poverty and lack of healthcare services can also contribute to increased vulnerability to HIV among young women in particular.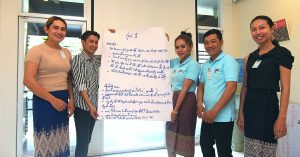 Increased involvement of communities can pave the way for enhancing responsiveness to community needs. In light of the first-ever significant decline of global resources for AIDS response by nearly US$ 1 billion in 2018, community response is crucial to fill in the resources gap. While the Government of Lao PDR has remarkably increased its investment in the HIV/AIDS response, the available resources need to be further increased to meet the vast demand.
"In every country, it is crucial that quality HIV prevention and treatment services reach everyone who needs them, leaving no one behind. Engaging communities is a key way of achieving this", said Dr Mark Jacobs, WHO Representative in Lao PDR.
The 2016 United Nations Political Declaration on Ending AIDS recognized the critical role of communities in HIV/AIDS response. Community-led organizations by and for people living with HIV can accelerate the country's progress on the path to ending AIDS, contributing to the sustainable and inclusive development for all people in Lao PDR.