The Miss Universe Laos 2019 public relations team has just released teaser images of the national costume design to be worn by May Vichitta as she competes in the international Miss Universe Pageant in the United States on December 9.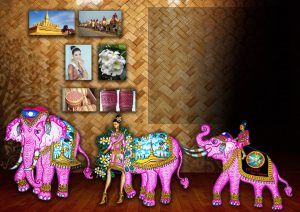 The full national dress costume presentation consists of two parts: Miss Universe Laos in a stunning traditional pink silk sinh and pa bieng (scarf/shawl) emerging from a marvelous large pink elephant structure.
The design incorporates many elements of quintessentially Lao symbols like the elephant, the Champa flower, the sticky rice basket, the national flag, and the That Luang Grand Stupa.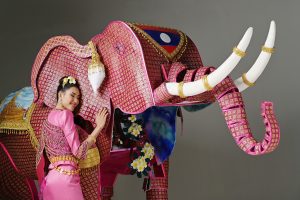 "The elephant is the national symbol of Laos. A strong, kind and magnificent creature, similar to traits found within our country and people. In our lifetimes, some of us may never encounter some of the wonders of the world such as the marvelous rainforests or the majestic Lao elephant. Future generations may never have the opportunity to see these marvels. Like the rainforest, our elephants are sadly disappearing at a rapid rate due to the ravages of mankind," says Tot Lina, head of the Miss Universe Laos public relations team.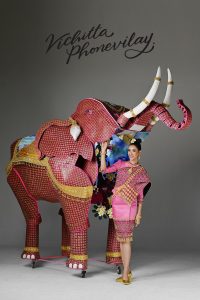 "Even if we have never been to the Amazon, or met an elephant up close, we can still feel the pain of losing nature to the devastation of wildfire and climate change. We must unite together, no matter what country we are from, to help our Earth. Our animals and forests have no voices, so we must campaign together and speak out to protect and preserve them," adds Tot Lina.
This year's costume is markedly different from that of last year's Miss Universe representative, which was inspired by the Kinnaree creature of Southeast Asian mythology.
The activities of Miss Universe Laos competing in America is being closely followed by Lao fans from all over the world.
Just a few days ago, dozens of Atlanta-based Lao fans surprised Miss Universe at the airport and showered her with support and commendation.