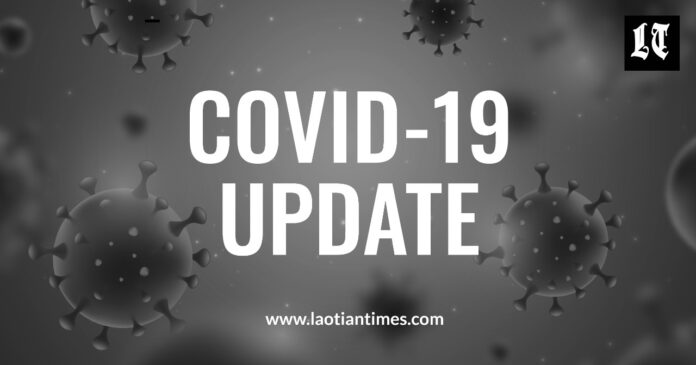 Laos has confirmed 64 new cases of Covid-19 today, bringing the total number of cases in the country to 821.
According to the daily announcement by the National Taskforce for Covid-19 Prevention and Control, Vientiane Capital recorded 49 cases, Champasack 13 cases, with one case each for Oudomxay and Salavanh.
Coronavirus outbreaks have now spread through 15 provinces in Laos, with only three provinces remaining free of the virus: Attapeu, Xaysomboun, and Houaphan.
The National Taskforce says it has prepared field hospitals in a number of locations across Vientiane Capital, including indoor sports centers, sports stadiums, and hotels such as Don Chan Palace.
In its daily announcement today, the Taskforce said that it had begun preparing and training extra personnel since last year in order to cope with a potential Covid-19 outbreak.
Dr. Bouathep Phoumin, Deputy Director-General, Department of Health care and
Rehabilitation said in the announcement that the new strains of Covid-19 can affect everyone, from small children to older people. She urges everyone to continue to wear a mask, clean hands, and practice social distancing.
She said the country has received a large number of donations of equipment since last year, from friendly nations and from the private sector. In addition, Laos has received training handbooks from the World Health Organization to assist medical personnel in treating Covid-19 patients.
Over 150 medical personnel have been trained in how to operate a field hospital and treat patients in a field hospital setting.
According to Dr. Lattanaxy Phetxouvanh, Director-General of the Department of Communicable Disease Control, there have been 743 people infected with Covid-19 since the Lao New Year holiday, a has increased sixteen-fold increase since the beginning of 2021.
Dr. Lattanaxy advised all residents to stay at home unless absolutely necessary, saying they should only leave the house to purchase groceries or undertake essential work, to visit a hospital, or receive a vaccine.
"There is no need to leave the house every day. You can leave the house once per week and if you leave your home you absolutely must wear a mask, wash hands, and social distance," said Dr. Lattanaxy.
"Try not to touch your face, especially your mouth and nose, and keep one meter away from anyone you meet. We must now assume that anyone we meet could have the virus, however, if you follow these three steps you will have a much lower risk of contracting Covid-19," he added.
Dr. Lattanaxay has advised authorities at every level to continue to monitor those coming and going, and to ensure that people do not leave their homes unless absolutely necessary. Meanwhile, police and military have been charged with patrolling the borders to ensure that nobody enters the country illegally.