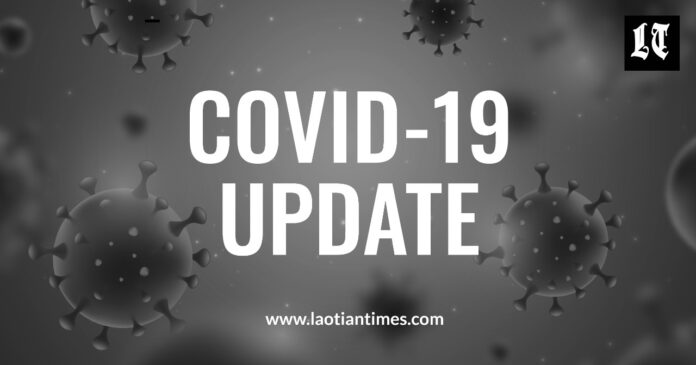 Laos has confirmed five new cases of Covid-19 as the week begins.
Dr. Phonepaseuth Sayamongkoune lead the daily announcement by the National Taskforce today, updating listeners on the global situation before detailing the situation in Laos.
She said that the country had tested 1,873 samples (1,123 in Vientiane), confirming five positive cases of Covid-19, with the total number of cases now standing at 1,968.
Of the new cases, Vientiane Capital saw one case of community transmission, while Champasack saw one imported case, and Savannakhet recorded three imported cases.
She said the country had a total of 239 active cases, and no longer had any severe cases in hospital.
According to Dr. Phonepaseuth, the latest case in Vientiane Capital became infected after sharing an apartment with an infected person.
She said that there were now 25 red zones in Vientiane Capital, with Nakham becoming the latest red zone.
Dr. Phonepaseuth said that while there is a downward trend in cases recorded across the country, all residents must strictly abide by lockdown orders issued by authorities at all levels to ensure that the Covid-19 measures could be further relaxed and life could slowly return to normalcy.
Dr. Phonepaseuth Ounaphom spoke during the announcement regarding the provision of vaccines.
He said that as of yesterday, the number of first dose vaccines provided to the population stood at 686,794, covering 9.36% of the population.
Regarding second doses, AstraZeneca and Sinopharm are being provided, with Dr. Phonepaseuth urging everyone to receive their second dose in accordance with the timeline given on their vaccination certificate.
He said that the World Health Organization (WHO) had changed its recommendations for the provision of the second dose of AstraZeneca, moving the timeline forward from 12 weeks to just eight weeks.
He mentioned that the government of Laos has received a batch of Pfizer vaccines from the Covax facility which will be rolled to the elderly and those with underlying conditions in Vientiane Capital from 15 June.