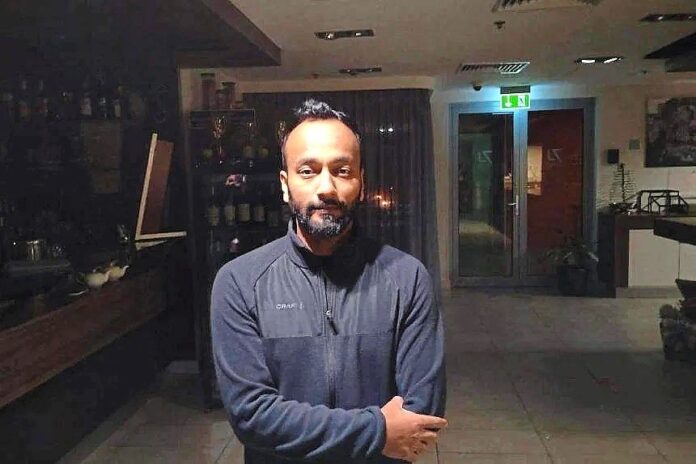 After a month of renewed Russian airstrikes which have targeted civilian infrastructure and in particular the power grid, life has become harder across Ukraine, especially with the onset of winter. But many Ukrainians and a few foreigners, including Singaporeans, have stayed behind to help, determined to get through the winter.
Singaporean Stanley Cheong, 46, who works for the World Health Organisation (WHO), has been in Ukraine since April. He travels to unoccupied areas of the country, training first responders' on-scene management in the event of a chemical weapons attack.
Even though there is no evidence of chemical weapons being used in Ukraine, Cheong, who until 2015 worked for the Organisation for the Prohibition of Chemical Weapons, said first responders close to the war front must be trained to prepare for the worst.
Cheong, who had worked in Iraq from 2016-2018 and Syria from 2014-2015, said: "A lot of the front lines in Ukraine are near chemical storage and production facilities. Between April and June, there was a spike in collateral damage, resulting in industrial chemicals being released into the environment."
He said it is more dangerous to work in Ukraine than Iraq or Syria.
"Inside Ukraine, there is always an imminent threat of an attack by Russian missiles. So when the air raid alarm goes off, the first thing to do is to scramble to a bomb shelter."
In early April, when he was in Lviv, a city in western Ukraine that is supposedly one of the safest due to its proximity to Poland, he witnessed an air raid while running to an underground bunker.
"I actually saw Ukrainian surface-to-air missiles being fired against incoming missiles, and the windows in my room were rattling from the impact," he said.
Cheong also has to get used to regular blackouts and unreliable heating as winter in Ukraine begins to bite. In much of the country, winter temperatures can drop to -10ºC, and it is dark by 4 pm.
He said: "It's a challenge to work here with the regular power cuts, so I have to be very prudent with the usage of my phones and laptop."
He will likely stay in Ukraine for as long as the war goes on, although he will soon be getting some time off to be with his family in Singapore before returning to support Ukraine's Ministry of Health.
Another Singaporean, John Fitzgerald De Witt, a 29-year-old crypto, forex and futures trader, lived in Ukraine for six months before he was evacuated when Russia began its invasion in February.
He returned to Ukraine by the end of October, but reluctantly left in December because he could not work without an electricity supply and Internet connection.
De Witt is supporting Ukraine from Poland by working as a driver for a charity called Safe Passage 4 Ukraine, transporting generators and other aid to help the Ukrainians get through winter.
Some other Asians have also decided to remain in Ukraine as their families are there.
A 51-year-old South Korean, who wanted to be known only as Rim, is a manager and teacher at the Korean Education Centre in Kyiv, run by the South Korean government. The centre has remained open throughout the war.
He has lived in Ukraine for 22 years, and is among around 20 Koreans left in the country, despite being advised by the South Korean Embassy to leave.
Rim said: "My wife is Ukrainian and all her family and friends are here, so I didn't want to leave. That would be unfair."
He and his wife have a 10-month-old baby girl, and when there is no electricity for more than a day, it can become a problem. He considered moving to Poland temporarily or even going back to South Korea, but decided against it.
Like Rim, Gaurav Basnyat is staying put. The 31-year-old from Nepal is working as a digital programme manager for the Norwegian Refugee Council, which has been in Ukraine since 2014 after Russia annexed Crimea in March that year.
Basnyat is unfazed by working in a war zone and volunteered to come to Ukraine.
"This is my 14th deployment, so being in a war zone is part of the work. It was my choice to come here. And because Ukraine is a very technologically savvy country, as a humanitarian working in technology, this is the perfect place to be."
He feels his work is truly validated in Ukraine as this is one of the first conflicts where technology has been able to significantly help the people.
"Even in the occupied areas, we can reach people because they can use WhatsApp or Telegram. That makes this war different from previous wars."
He said the way Ukrainians are dealing with this crisis is unique.
"You see the grit people have here. They are striving through difficult times and this is not common in these contexts. In most situations I have witnessed, there would be complete chaos." — The Star Malaysia/ANN