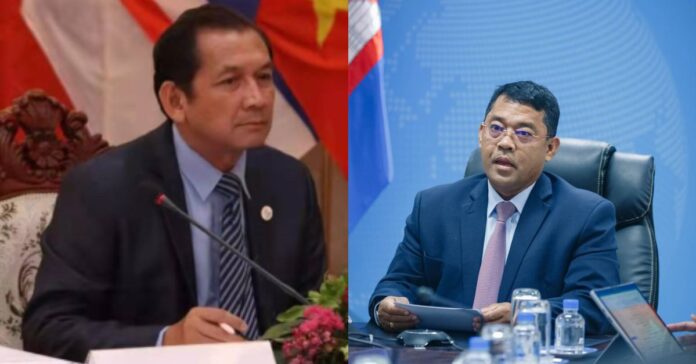 Lao and Cambodian officials met on Monday in Vientiane to sign an MoU, aimed at improving the standards of tourism personnel and attracting more investments to increase bilateral tourism between the two nations.

The event was attended by the Director General of the Tourism Marketing Department of Laos' Ministry of Information, Culture and Tourism, Mr. Khom Douangchantha along with Director General of Tourism Development and International Cooperation, Ministry of Tourism of the Kingdom of Cambodia, Mr. Thong Rathasak. Also present was Laos' Minister of Information, Culture and Tourism, Mrs Suanesavanh Vignaket and Cambodia's Minister of Tourism, Dr Thong Khon.
During the event, Mrs. Suanesavanh spoke about Laos' willingness to increase tourism and strengthen cooperation in the development of natural resources in the tourism sector.
Both ministries agreed to initiate a promotional campaign titled, "Two Countries, One Destination" to aid in their efforts. 
As part of the plans laid out by the respective travel ministries, more flights to popular tourist destinations between both countries will be encouraged to increase connectivity and ease of travel. The two countries will attempt to streamline land-border crossings so that they are a convenient option for tourists and less time-consuming. 
The possibility of linking tourist destinations by conducting Mekong River cruises will be explored as well, reports Vientiane Times. A Cambodia-Laos Cycling Rally, and other running events, are also on the cards as part of the 66th anniversary of Cambodia-Laos diplomatic relations.
Additionally, Laos and Cambodia are looking at doing a joint promotion of community-based and culinary tourism by hosting food festivals in each country.
The Cambodian delegation was on an official visit to Vientiane between March 12-15 after Cambodian Prime Minister Hun Sen's two-day trip in February during which he discussed increasing cooperation in the area of tourism with Lao PM Sonexay Siphandone.