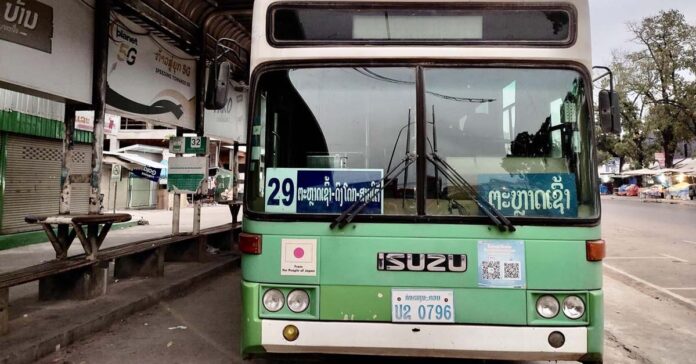 The Public bus system in Vientiane Capital is putting policies in place to improve its service and ensure that passengers reach their destinations in a timely manner. 
Bus operators in the city have agreed to cease picking up and dropping off passengers at random locations and will instead use designated bus stops to ensure punctuality and safety.
Following the announcement of the Vientiane City 2 Bus Service, bus routes in the city, including the southern Route 29 from the Morning Market to Dongdok will pick up and drop off commuters only from bus stops starting in May.
The Vientiane public bus operator said that buses running from Central Bus Station-Dongdok will strive to be a punctual, convenient, and safe mode of travel for passengers who can arrive at their destination on time according to the predetermined schedule of the bus route.
Vientiane City 2 Bus Service also offers a digital timetable, a map of the bus routes, and the application of Lao BusNavi where passengers can track the bus movement around Vientiane Capital.
The famous night market in Vientiane, also known as Hengboun Food and Culture Street, was moved to a different location in March for the upcoming 2024 ASEAN Summit and the development of the city's bus system.