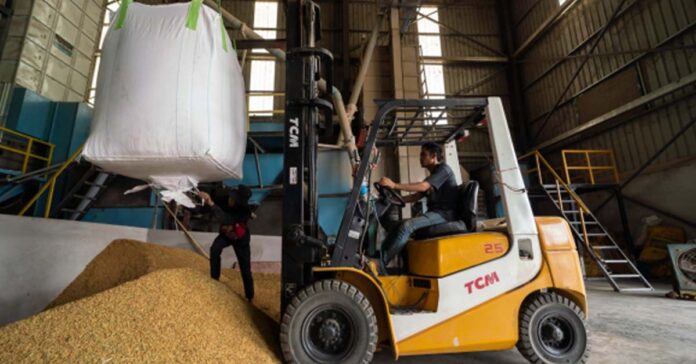 The European Union in Laos has encouraged farmers and agricultural companies in the country to export more rice to European countries.
Two Ambassadors and other Officials from the European Union (EU), Germany, France, Hungary, and Italy visited Champahom Trade Import Export Company in Pak Ngum Village, Vientiane Capital on Friday.
Team Europe partners discussed the opportunities and challenges of rice trading with the European market as the company was recently able to export rice to Belgium and France.
Team Europe partners at the visit included EU Ambassador Ina Marčiulionytė, German Ambassador Annette Knobloch, Hungarian Chargé d'Affaires Laszlo TAKACS, French Embassy Cooperation Attaché Marie-Christine Charlieu, and Italian Embassy Agriculture Environment Attaché Roberto Molteni.
Ms. Bounheung Phommyxay, CEO of Champahom Trading Import-Export Company, said that her company received a loan from the World Bank, and benefited from the Systematic Mechanism for Safer Trade (SYMST) project, financed by the EU and implemented by the International Trade Centre (ITC).
#TeamEurope today visited a Champahon company that started export of rice to Belgium and France. It was a good opportunity to discuss achievements and challenges with their female Director General. #Laos #rice pic.twitter.com/NKc1KRTlM1

— Ina Marčiulionytė (@IMarciulionyte) May 12, 2023
According to a report in Vientiane Times, she says, "I thank SYMST, which allowed the company to register in the system for exporting rice to the EU market (TRACE system), and the Thai Food Expo (ThaiFEX) in 2022, where our company met with European buyers."
Champahom Company has become one of the first companies in Laos to succeed in exporting rice to the European Union. The company exported 50 tonnes of rice to the European Union market so far, with Belgium as the first purchase destination in 2021.
In 2022, the company signed an agreement with Wech Gros Import-Export in France, to sell 1,000 tonnes of glutinous rice each year for an unspecified number of years with the first shipment of rice, amounting to 25 tonnes, sent to France in January 2023.
The Team Europe Partners took the opportunity to confirm their objective to strengthen trade, economic, and investment partnerships with Laos, especially focusing on quality investment, which contributes to inclusive growth and jobs.
They expressed hopes that Champahom Trading Import-Export Company, would export more rice to Europe, and congratulated Ms. Bounheung Phommyxay for her leadership, as a woman entrepreneur, in showing the way for other companies to export Lao products to the EU.