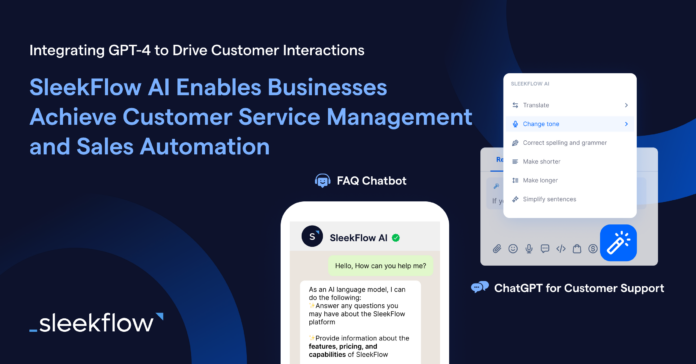 HONG KONG SAR –
Media OutReach
– 17 May 2023 – The launch of ChatGPT has led to a surge in the adoption of Generative AI in business applications, with many businesses leveraging Open AI's state-of-the-art language model to enhance their customer service, sales, and marketing strategies.
SleekFlow, the SaaS omnichannel social commerce platform backed by Tiger Global, has announced the successful development of SleekFlow AI, a transformative business solution that is powered by GPT-4 technology. The startup has taken the lead in developing SleekFlow AI to assist professionals in enhancing their communication skills, maximizing their knowledge base, and developing context-aware AI-powered chatbots that deliver spot-on solutions every time.
SleekFlow's GPT-4 Powered AI WhatsApp Chatbot Offers Personalized Recommendations and Natural Conversations for Enhanced Customer Service in Highly Customized Industries
SleekFlow has developed a highly intelligent WhatsApp chatbot, integrating Azure OpenAI's GPT-4 model. With the ability to quickly respond to common customer inquiries and recommend personalized products or services based on the conversation analysis, the chatbot provides reliable and accurate responses using businesses' uploaded knowledge base as its sole information source. The customized chatbot can recognize and respond only to specific categories of questions and automatically escalate the issue to human agents for complex queries, delivering comprehensive customer service.
Unlike ordinary chatbots that provide stilted answers, SleekFlow's chatbot engages in natural conversations and handles complex queries and emotions, providing personalized responses 24/7 to enhance customer experience and service efficiency.
SleekFlow's founder and CEO Henson Tsai emphasized, "SleekFlow's R&D team has always focused on addressing market demand and customer pain points as the main axis for product development. The introduction of AI is particularly useful in highly customized industries, such as insurance, banking, as well as beauty and retail. For example, insurance customer service often involves a large volume of complex provisions. The GPT-4 chatbot can analyze the conversation content and insurance policies to recommend the most suitable insurance plan for customers, saving time on training human agents while ensuring responses are in accordance with the training content. The chatbot can also mark citations to enhance enterprise and customer confidence and trust. Similarly, in the beauty and retail industry, the chatbot can provide personalized product information and recommendations based on customer skin concerns, greatly improving the customer service sales process."
Empowering Businesses to Deliver High-Quality Customer Service and Boost Efficiency with AI-Driven Human Agent Support
SleekFlow AI provides multi-level assistance to human agents to deliver high-quality customer service. When the all-in-one omnichannel communication platform receives customer inquiries, SleekFlow AI instantly generates answers from its internal knowledge base and delivers precise recommendations to human agents based on the conversation, saving time on searching and integrating information to shorten response times. Additionally, SleekFlow AI enriches response content by providing each human agent with a dedicated AI editor, effectively avoiding grammatical errors and delivering a professional brand image. Furthermore, SleekFlow AI can translate, simplify, lengthen or even reorganize content, and apply different contextual awareness to ensure consistency and control customer service quality, ultimately reducing complaint incidents.
Streamlining Business Operations Management with AI to Achieve Cost Reduction and Efficiency Improvement from Talent Training to Customer Sales
SleekFlow AI offers businesses a powerful solution to break down language barriers and centralize customer service management. With its excellent language abilities, SleekFlow AI can instantly translate customer inquiries, enabling businesses to provide customer service without having to outsource overseas. Moreover, SleekFlow AI can understand and adapt to different cultural norms and communication styles, bridging cultural gaps and helping businesses expand their global reach.
In addition to its customer service capabilities, SleekFlow integrates AI into its workflow to optimize internal business management. SleekFlow AI can generate concise reports from long chat threads, summarizing customer inquiries and team responses for internal recordkeeping, streamlining handover procedures and saving time on report production. The platform also allows businesses to upload documents to the database and use SleekFlow AI to assist in employee training. By quickly answering questions from a vast amount of text, SleekFlow AI enables businesses to efficiently train professional talent and shorten the learning cycle for new employees.
"Over the past year, SleekFlow has experienced explosive growth, with our enterprise customers increasing sixfold, accumulating over 5,000 customers in 120 regions worldwide," says Tsai. "At the same time, we continue to optimize the platform to help businesses upgrade their customer service quality, increasing their sales converted with chat threefold and boosting the online to offline (O2O) sales by 18%. I believe that AI will be an indispensable part of business in the next three years and become the driving engine of various industries. SleekFlow AI helps businesses start using AI at a lower cost. To stay ahead of the times, you need to seize the opportunity now. We hope this upgrade will attract more enterprise customers to SleekFlow, making it the primary choice for enterprise AI transformation and driving further growth."
For more information, visit https://sleekflow.io or access the full media kit (including visual assets) here.
Hashtag: #AI #GPT4 #ChatGPT #CustomerEngagement #SocialCommerce #SleekFlow #Innovation #RevolutionizingCustomerEngagement
https://www.linkedin.com/company/sleekflow/

https://www.facebook.com/sleekflow.io/

https://www.instagram.com/sleekflow/?hl=en
The issuer is solely responsible for the content of this announcement.
SleekFlow
With our omnichannel social commerce platform,
SleekFlow empowers the future of social commerce. We transform the way of business by merging chat and sales and building an unstoppable ecosystem of chat commerce.
Our AI-powered Omnichannel Conversation Cloud enables a comprehensive customer journey across major social and messaging services like WhatsApp*, Facebook, Instagram, SMS, live chat, or whatever your clients prefer. We streamline the whole commerce process with social and sales all in one to breakthrough your sales growth limits.
Our customer engagement solution allows businesses to enhance cross-departmental collaborations, manage all interactions with customers, blast out automated campaigns, and send payment links in chat. Conversions through conversations have never been easier.
Headquartered in Hong Kong, SleekFlow raised its 8M USD Series A funding round in 2022 led by Tiger Global Capital with participation from AEF Greater Bay Area Fund, which is managed by Gobi Partners GBA and Transcend Capital Partners.