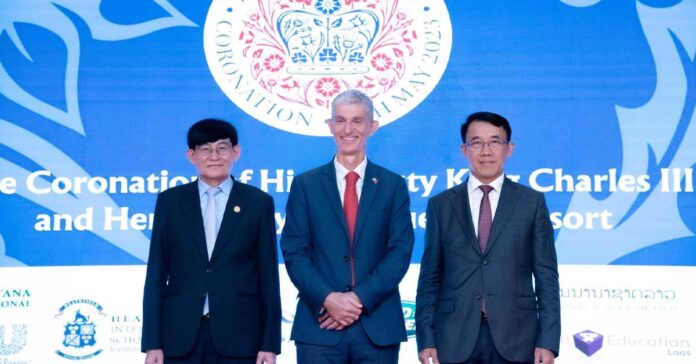 The British Embassy in Vientiane celebrated the Coronation of His Majesty King Charles III and the Queen Consort earlier this month. 
The coronation was broadcast live at the Crowne Plaza Hotel in Vientiane where Dr. Phouth Simmalavong, Minister for Education and Sports, and Mr. Bounleua Phandanouvong, Deputy Minister at the Ministry of Foreign Affairs attended the event.
The Coronation is the first in 70 years since Queen Elizabeth was crowned in 1953. This historic occasion was marked at Vientiane's leading British hotel, the Crowne Plaza, decorated with a mock-up of Westminster Abbey and a tea garden.
More than 300 guests from the Lao government, diplomatic missions, international organizations, schools, British businesses, and the public attended the occasion.
British Ambassador, John Pearson, opened the evening with a speech conducted in both English and Lao. His speech reflected not only tradition and history but highlighted the modern and diverse nature of the United Kingdom.
Echoing the theme of volunteering, youth, and community in the UK, this was followed by an introduction to the charity, Vientiane Rescue. Their video featured their incredible and valuable work to help injured people in Laos.
After the video ended, Vientiane Rescue was invited onto the stage to share their experiences and to promote safety on the road.
The coronation event was then live-streamed. Guests were able to watch the ceremony in real-time as in the UK and share reactions with others whilst watching the stream. During the live stream, guests also enjoyed British food and drinks including fish and chips, pork pies, and a cream tea.
Unilever provided ice cream for all to enjoy. After the coronation itself, the celebration continued with live music.
The event also featured displays by sponsors Jaguar Land Rover, Heathfield International School, Panyathip International School, Vientiane Pattana International School, Kiettisack International School, International School of Laos, and SpringBoard4Education.
The British Embassy in Vientiane expressed heartfelt appreciation to the sponsors, partners, and supporters for their generous contributions that made this event remarkable.