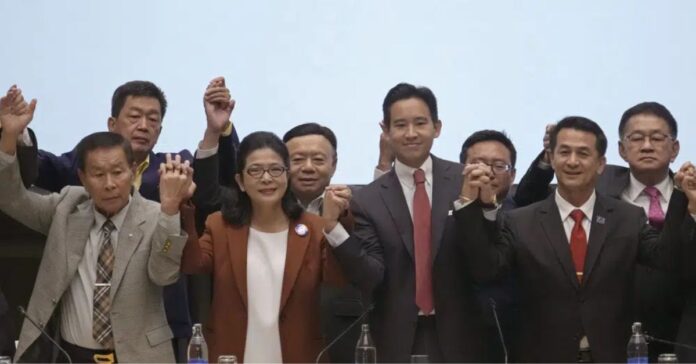 BANGKOK (AP) — The leader of the progressive opposition party that won a stunning victory in Thailand's national election said Thursday that eight parties have agreed to form a coalition government with him as prime minister, despite fears among supporters that his military-aligned opponents may use the unelected Senate to block them.
Move Forward Party leader Pita Limjaroenrat said at a news conference that the proposed coalition would have a total of 313 seats in the House of Representatives, a solid majority of its 500 members.
But under Thailand's Constitution, drafted under military rule after a 2014 coup, the lower house and the 250-seat Senate must vote together to select a new prime minister. All of the senators were appointed by the military junta that took power after the coup.
Because of the joint vote, Sunday's election victor is not certain to take power.
"The key message of today's news conference is to assure the public that my coalition is firmly taking shape," said Pita, a Harvard-educated businessman. "There's momentum, there's progress and we also a have very clear roadmap from today until the day I become prime minister."
He said the plans include teams to work out any differences among the parties and to "make sure there is a continuation of power, minimizing risk as well as reducing destabilizing factors that could damage the country or the economy or the financial markets."
Move Forward's progressive agenda resonated with a public weary of nine years of military-steered rule under Prime Minister Prayuth Chan-ocha, who led the 2014 coup as army chief.
It enjoyed a surge in support before last Sunday's poll, driving it to become the largest party with 151 seats. Prayuth's United Thai Nation Party captured only 23 House seats.
Move Forward edged out another opposition party, Pheu Thai, aligned with popular former Prime Minister Thaksin Shinawatra, who was ousted in an earlier 2007 military coup.
Pheu Thai leader Cholanan Srikaew pledged unequivocal support for Pita as prime minister and for Move Forward's bid to form a new government.
Young voters were particularly attracted by Move Forward's policies, including a proposed amendment of Thailand's harsh lese majeste law, under which criticizing the monarchy is punishable by up to 15 years' imprisonment. Critics say the law is frequently misused to punish critics of the government, while conservatives who consider the royal institution sacrosanct strongly oppose any amendment.
All senators voted for Prayuth as prime minister after the last election in 2019, allowing him to remain in office despite a Pheu Thai victory in those polls. Some senators have already said they will not support Pita as prime minister because they oppose any change to the lese majeste law.
The law, known as Article 112, is also a sensitive subject within Pita's coalition.
"I confirm we want to protect the monarchy but also not allow 112 to be used to harm other people," said Sudarat Keyuraphan, leader of the Thai Sang Thai Party and a former public health minister.
She said each party in the coalition has a different stance on the law. "We have to talk about this article, as well as all the other policies," she said.
Pita said the parties will sign a memorandum of understanding next week to create a common understanding of how they will work together as a government.
___
By JINTAMAS SAKSORNCHAI Associated Press
Associated Press video journalist Jerry Harmer contributed to this report.