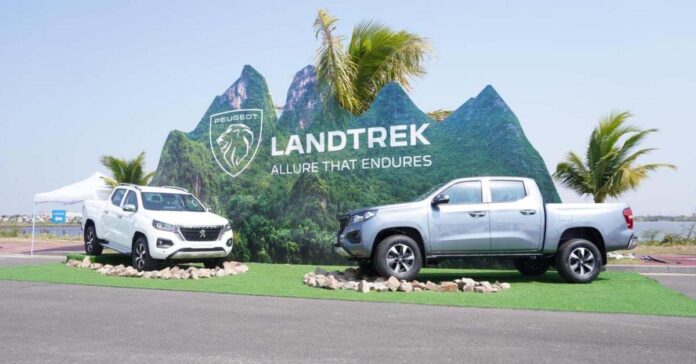 PEUGEOT in Laos is inviting customers to drop by the PEUGEOT EXPERIENCE event at That Luang Lake in Vientiane to test drive vehicles from now until 21 May or visit the Laothani Showroom.
Themed "The World is Better with Allure," the four-day PEUGEOT EXPERIENCE event is aimed at showcasing the brand to customers.
PEUGEOT Laos is also announcing its initial product line-up, consisting of the NEW 2008, NEW 3008, NEW 5008, and the NEW LANDTREK 4X4 and 4X2 pickup truck variants. This robust line-up offer vehicles which suit the varying lifestyles and needs of customers in Lao PDR together with superior design, technology, and performance.
Present at the launch of the PEUGEOT EXPERIENCE DAY event on 18 May, Her Excellency, the Ambassador of France to Laos, Ms. SIV-LENG CHHUOR, said "Peugeot is a French brand that creates reliable, efficient, world-class, beautiful automotive products that make their owners proud. These cars are driven all over the world and their arrival in Laos is a concrete recognition of Laos as a country of car lovers and connectivity. By choosing Peugeot, you enjoy state-of-the-art technologies, French flair, and luxury, and still at a reasonable price!"
"I wish Laothani and Peugeot every success in their new ventures. And to all of you a very pleasant Peugeot Experience Day!" she added.
Laothani Tractor Sole's Managing Director, Mr. Ladsasiphon Phimphachanh, said: "We are honored to introduce the PEUGEOT brand to Lao PDR through the PEUGEOT EXPERIENCE DAY. Laothani Group is excited to introduce Peugeot's initial product line-up consisting of the NEW 3008, NEW 5008, and NEW LANDTREK pickup truck which will meet the various needs of customers in the country."
Starting from June 18, 2023, customers can buy or reserve these cars by visiting:
PEUGEOT PHONEXAY showroom (Next to Phonexay PV Oil Gas Station) Phonexay Village, Xaysettha District, Vientiane Capital, Lao PDR. Tel: 021-412391
PEUGEOT LAOTHANI KM7 SHOWROOM, Sivilay Village, Xaythany District, Vientiane Lao PDR Tel: 020-5596 8188
PEUGEOT Customer support: 020-57382111
Adding to the celebrations, PEUGEOT Laos is also offering a special campaign running from 18-31 May 2023, exclusive to the NEW PEUGEOT LANDTREK, for its customers in conjunction with the 70th anniversary of the Laos-France relations. For more information, customers are encouraged to drop by the PEUGEOT EXPERIENCE event at That Luang Lake in Vientiane from now until 21 May 2023 or visit the Laothani Showroom.
PEUGEOT Product Line-up
The NEW PEUGEOT LANDTREK is a new choice of mid-size pickup designed to handle city roads and tough terrains while complementing outdoor leisure activities. Combining a stylish interior with a spacious and comfortable interior, the LANDTREK also features state-of-the-art onboard technology, advanced adaptability, and SUV-like driving pleasure. It will be made available in two variants for customers in Lao PDR.
The NEW PEUGEOT 2008 is a compact SUV designed for modern living with an emphasis on sporty, elegant styling. Its key features include advanced safety technology, a high-tech cockpit, and a spacious cabin. With a range of colors to choose from including Amazonite Grey, Pearl White, and Perla Nera Black, it's perfect for the adventurous and style-conscious driver.
Combining distinctive style with practicality and versatility the NEW PEUGEOT 3008 is a mid-size SUV that's built for drivers who value comfort and style. Its sleek and modern design is complemented by innovative technology, including a driver assistance system, a responsive infotainment system, and a panoramic sunroof. The NEW 3008 will be available in Perla Nera Black, Pearl White, Amazonite Grey, and Cuprite Brown.
The NEW PEUGEOT 5008 is a spacious and practical seven-seater SUV that offers a premium driving experience. Its refined and elegant design is matched by an impressive range of features, including a hands-free tailgate, a panoramic sunroof, and a premium sound system. The NEW 5008 is perfect for families and those who need ample space and comfort on their journeys. It will be available in Emerald Crystal, Pearl White, Amazonite Grey, and Perla Nera Black.