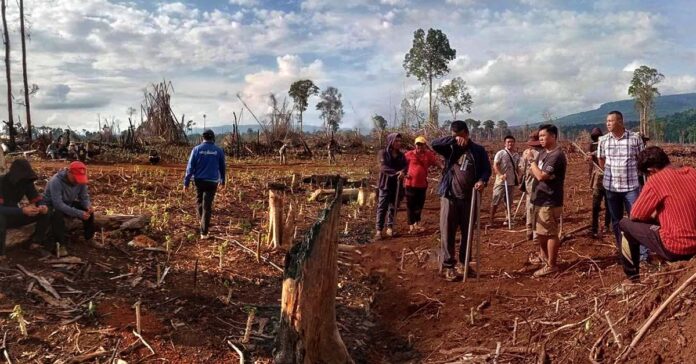 Authorities in Sanamxay District, Attapeu Province have issued a clarification about the alleged land grab incident that caused villagers to protest over a foreign company taking over a protected area of the Bolaven Plateau.
Lao Phattana News reports that the Head of the Provincial Office in Attapeu, Mr. Soulichanh Phonekeo, said that before the incident, the province issued several warnings to villagers who encroached on the area without permission for harvesting cassava.
According to Mr. Soulichanh, cassava plantations would have a negative impact on the soil in the area, resulting in future drought. However, in order to restore the area, the province authorized two private companies to grow other crops.
The Chinese and Lao developers, Xyxin Agricultural Development Company and Kongkeo Agriculture Development Company, signed agreements with the province for 25 years and 300 hectares of land for growing plants like rubber and durian.
The villagers, who were originally from Champasack province, had just begun to cultivate cassava when they encountered the two developers who supposedly destroyed their crops during land clearance.
A villager who witnessed the incident said, "A group of developers began clearing the land, destroying the cassava plantation. When the villagers confronted the developers, they threatened and attacked us with a firearm."
"We attempted to film the entire incident and record it as evidence when a developer took a villager's phone and stepped on it and destroying it, but we did not respond with any violent actions," he added.
Attapeu provincial authorities had temporarily suspended the land clearance activities of the foreign company amid a public backlash on social media this month.
The province has yet to release any further information regarding compensation for villagers from the damages caused to them by the land clearance.