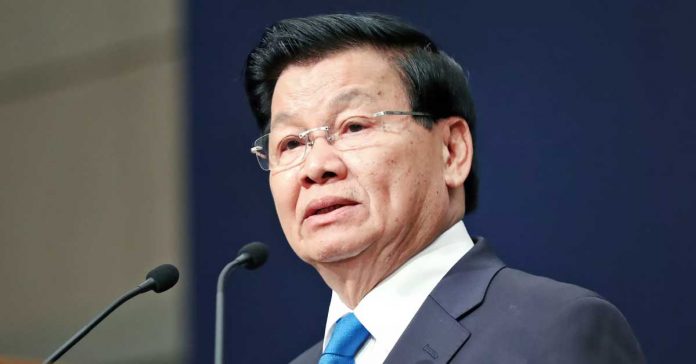 Lao President Thongloun Sisoulith spoke out about the Laos-China Railway and the country's debt burden at the Nikkei Future of Asia conference.
In an interview with Nikkei on the sidelines of the conference, President Thongloun told reporters that he is proud of the USD 6 billion dollar railway project, which he says sparks hope for economic development.
The high-speed Laos-China Railway now connects Vientiane, the capital of Laos, with Kunming in China's Yunnan province, facilitating both passenger travel and cross-border trade.
President Thongloun said in the interview that he believes that the railway has significantly contributed to the country's economy and will pave the way for a better future. He said that the initiation of cross-border passenger services in April had resulted in increased tourism and transportation of goods with China and neighboring Thailand.
But an overwhelming number of critics have said the project makes Laos overly dependent on China and has created significant risk in regard to public debt.
President Thongloun disagrees, however, stating that the project is part of efforts by the country to transform itself from landlocked to land-linked.
"They don't understand the feeling of Lao people, of how proud they are of having the first railway in our country," argued Thongloun in the interview. "It will contribute meaningfully to our efforts in transforming our country from landlocked to land-linked, and this is certainly something that a lot of people are very proud of," he told Nikkei.
Reports from the World Bank and the IMF indicate that Laos' economy is at high risk of debt distress, with the economy taking a huge hit following Russia's war against Ukraine.
"We don't deny that we have debt, especially with China," President Thongloun told Nikkei, admitting that his country's external debt is "huge," but saying the amount is still manageable for Laos and "not as huge as other countries are experiencing."
He said that the debt trap theory is not the reality facing his country and that Laos is taking measures to cope with the situation, including attracting more foreign direct investment, managing revenue collection, and reigning in state spending to control its expenses.