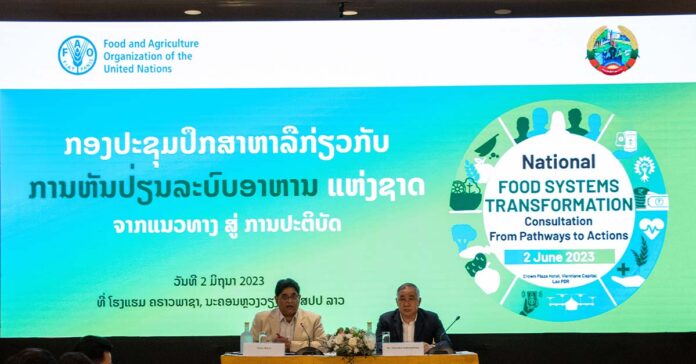 The Lao government and Food and Agriculture Organization (FAO) in Laos discussed various issues regarding the food system and how it was affected by the Covid-19 pandemic, climate change, and the 5F crisis on Friday at a National Consultation event.
FAO and the Ministry of Agriculture and Forestry (MAF) reviewed the engagement in agri-food systems in Laos and a National Dialogue of the Food System that led to the formulation of a National Pathway to Food system transformation in 2021.
The National Pathway remains in place, but some context elements have changed as a result of Covid-19, climate change, and the so-called 5 F crisis (increased food, feed, fuel, fertilizer, and financial difficulties), putting additional strain on food systems.
"We need to review this collective effort and identify (or put forward) old and new actions and accelerators to transform this Pathway into concrete actions," said a Representative of the Food and Agriculture Organization in Laos, Mr. Nasar Hayat.
During the past few months, the FAO supported the MAF to identify enabling factors and priorities to initiate a deep and sustainable transformation of agri-food systems, according to Mr. Nasar Hayat.
"This agenda is considered a top priority by our Secretary General and Director General will host a high-level global stock-taking moment in July 2023 to review progress and renew their support to countries. We are supporting Laos in preparing and contributing to this event," he said during the meeting.
Director General of the Planning and Cooperation Department, the Ministry of Agriculture and Forestry, Dr. Thatsaka Saphangthong expressed his appreciation for the efforts of civil society, farmers, and community-based organizations in improving Lao people's livelihoods.
"The food system agenda is not a MAF-alone agenda, but we are conveners and encourage every people, sector, stakeholder, and organization to put this agenda forward at their level and develop new visions and narratives that will feed this highly complex matter," said Dr. Thatsaka.