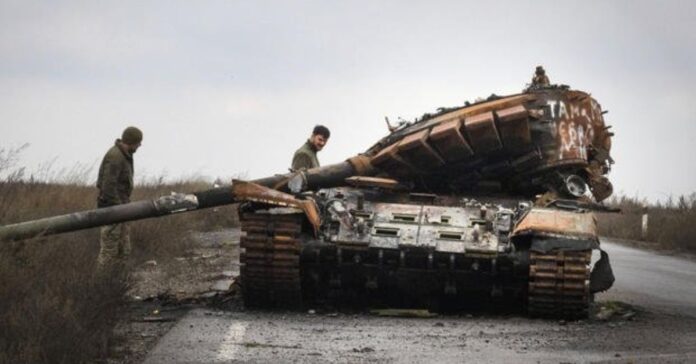 Russia is suspected of buying back military equipment which was exported to Myanmar and India following its ongoing invasion of Ukraine, according to a Nikkei analysis of customs clearance data.
After the US, European nations, and Japan banned the export of military goods to Russia, a survey by Nikkei found records of Russian repurchases for parts of tanks and missiles that were exported to Myanmar and India.
UralVagonZavod, a Russian military manufacturer, imported military products from the Myanmar army for USD 24 million on 9 December 2022, which were registered to have been made by them.
The Russian military currently has around 5,000 tanks, according to the 2023 edition of "The Military Balance," an annual report published by the International Institute for Strategic Studies, a British think tank.
Although, most of the inventory is old T-72 tanks, said Oleg Ignatov, a Russia analyst with the International Crisis Group, a Brussels-based think tank. This may be why the harmonized system (HS) codes for the reimported goods suggest UralVagonZavod repurchased 6,775 sighting telescopes and 200 cameras for installation in tanks to make them more modernized.
"I can add that optics is a big problem for the Russian military-industrial complex. It's plausible that they are trying to get optics this way," said Oleg, while Nobuyuki Akatani, a retired senior officer from the Japan Ground Self-Defense Force who was involved in developing tanks, said "probably optical devices to measure the distance to targets and zero in on them," referring to the military equipment allegedly repurchased by UralVagonZavod.
Russia previously relied on Western technology to produce optical equipment, but past trade data shows the country struggling to procure the necessary components as a result of the trade sanctions.
In the customs clearance data, military equipment exported to Myanmar in 2019 by UralVagonZavod was returned and referenced as "imported under reclamation act," suggesting the equipment was faulty.
"Any defective products should have been replaced when discovered in a full inspection conducted at the time of import," pointed out Kinichi Nishimura, a military analyst who previously served at Japan's Ministry of Defense.
Other analysts also hold a similar opinion, "For a warranty return, this would, as far as I know, be an unusual quantity," said Jakub Janovsky of Oryx, a Dutch defense intelligence analysis website.
The Russian NPK KBM, the Russian initials for the Machine-Building Design Bureau, which produces missiles, purchased a total of six components for night-vision sight for ground-to-air missiles for USD 150,000 from the Indian Military of Defense.
All of the parts, which are needed to ensure the missiles can perform at night and in low light, were manufactured by KBM, which exported the same type of equipment to India in 2013.
Russia may have reimported the parts for repairs, but there were no records of the items being sent back to India as of the end of March this year, says Nikkei.
According to the Stockholm International Peace Research Institute (SIPRI), Russia is the world's third largest exporter of military equipment, with India being its biggest customer, importing 35 percent of Russia's overseas arms shipments over the past 10 years.
Custom clearance data shipments to Russia were made available by ImportGenius, an American research specialist, Exim Trade Data of India, and other sources for shipments of parts of tanks and missiles, according to Nikkei.
Experts say that in order to reduce the transfer of military equipment to Russia and subsequently to the front lines in Ukraine, it is necessary to implement stringent measures, such as establishing mechanisms for disclosing deals with Russia.