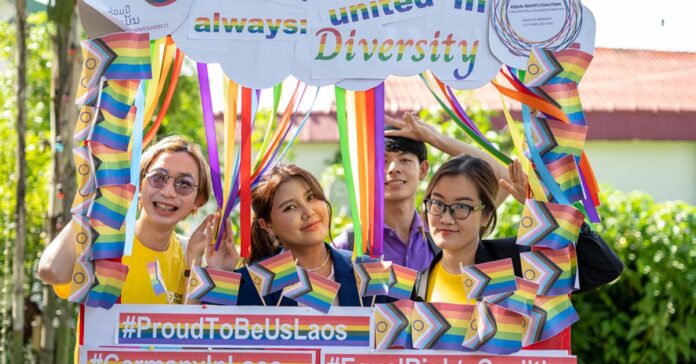 Last week, the Embassy of Germany in Laos and Proud To Be Us organized a policy dialogue titled Inclusion of All People at Work and Equal Rights Coalition, to discuss the representation of the LGBTQI+ community in the Lao workforce.
At the discussion, German Ambassador Annette Knobloch commented on how the LGBTQI+ community is still discriminated against in many places, across the world.
"Over 70 countries still criminalize homosexuality. In eleven nations, you even face the death penalty for it. And in many places, LBGTIQ persons suffer everyday discrimination," said Ambassador Annette Knobloch.
Accoding to the ambassador, Germany has been helming the co-chair of the Equal Rights Coalition – together with Mexico in partnership with Civil Society for the 2022-24 term.
The Equal Rights Coalition (ERC) is an intergovernmental body of 42 Member States dedicated to the protection of the rights of LGBTQI+ persons.
Ms. Thatsanalone Sisounonth, Vice Dean of the Faculty of Law at the National University of Laos, shared a presentation regarding the barriers and opportunities to gender diversity in the workplace in Laos.
During the event, Mr. Max Lucks, a Member of the Bundestag or the German Parliament, and Mr. Klaus Jetz, CEO of the German Lesbian and Gay Association (LSVD) also exchanged their opinions with participants.
Laos is also scheduled to officially celebrate International Day Against Homophobia, Biphobia, and Transphobia (IDAHOBIT Day) for the first time during Pride Month this year.