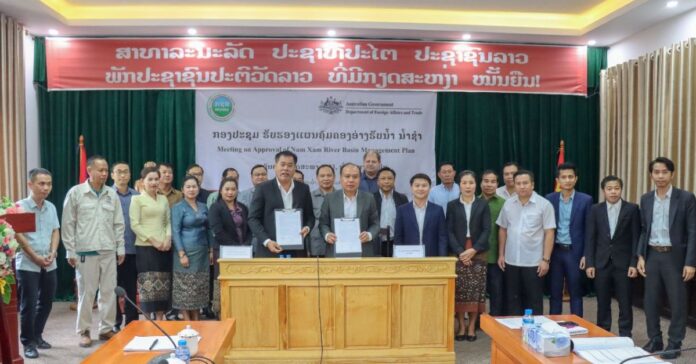 Australia and Laos have been cooperating on water resources management for nearly two decades. Key milestones in recent years include the Sekong Groundwater Management Plan approved earlier this year, revision of the Water Law endorsed by National Assembly in 2017, the development of key decrees and regulations as well as strategies and management plans for key priority basins of Laos.
A recent achievement of our partnership is the development of the Nam Xam Integrated River Basin Management Plan, endorsed by Vice Governor of Houaphan Province, Mr. Phonesouk Inthavong, and Vice Minister of Ministry of Natural Resources and Environment, Mr. Chanthaneth Boualapha.
The Nam Xam Basin is located in north-eastern Laos within Houaphanh province and is home to almost 200,000 people. It is an important basin that provides fresh water, ecosystem services, fisheries and supports irrigated agriculture, contributing to people's incomes and livelihoods. Like many other rivers, the basin is facing increased challenges due to land use change, increased use of water by different sectors, coupled with climate change. As climate change imposes an increased threat of flooding and droughts across the region, the impacts will be widely felt.
The Australian Water Partnership, in conjunction with a team led by Alluvium Consulting, has worked with the Lao Department of Water Resources to develop the Nam Xam River Basin management plan. The project has supported the adoption of sustainable water resources management to help mitigate floods and droughts, support sustainable agriculture and protect and maintain the environment.
Underpinning the process are principles from Australia's BasinGuide: A guide for river basin planning which builds on Australian and global practice for basin planning that can be applied in countries across Asia and the Pacific. These principles include a focus on appropriate governance, inclusive stakeholder engagement, capacity building, understanding the specific basin context and monitoring, evaluation and reporting and learning.
Aligning with Laos' regulatory requirements, the Nam Xam River Basin Plan vision is a clean, pollution-free Nam Xam River Basin that can conserve biodiversity, support abundant livelihoods and agriculture for all its residents and be an ecotourism destination. "This basin management plan will be an important framework for MONRE, provincial and district authorities to jointly manage in a sustainable way through protecting and improving water quality and quantity and that it continues to serve social-economic development, mitigate climate risk and protect environment", said Vice Minister Chanthaneth Boualapha.
Alluvium project lead Georgia Burkin said, "Aiming for truly inclusive stakeholder engagement was a challenge in the Nam Xam basin where many live in remote villages. With the support of AWP and Australian Government we were able to engage widely earlier in the process and push the practice forward in ways that are repeatable. The plan reflects the shared understanding of key issues, and its implementation will make a big difference to the livelihoods of the residents."
The development of the Nam Xam River Basin Management Plan is one of several activities supported by the Australian Government through the Laos – Australia Water Technical Cooperation, delivered in partnership with MONRE, the Australian Water Partnership and Australian water experts.
The BasinGuide is available on the Australian Water Partnership website.