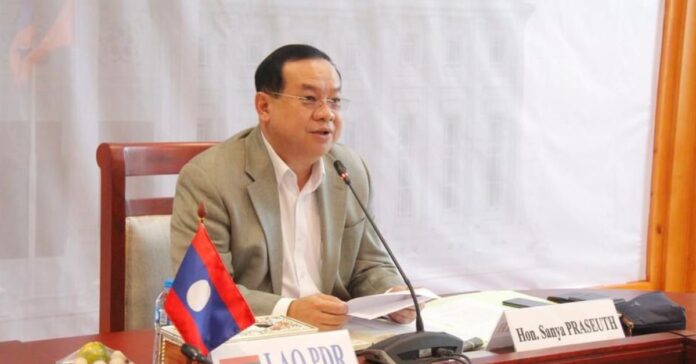 Delegations from the National Assembly of Laos, Cambodia, and the Republic of Vietnam held a virtual meeting last week, to discuss their preparations for the 1st Cambodia-Laos-Vietnam Parliamentary Summit.
The meeting was joined by Mr. Sunya Praserd, the Chairman of the Lao National Foreign Affairs Committee, Mr. Suos Yara, Chairman of the Commission of Foreign Affairs, National Assembly of Cambodia; and Mrs. Le Thu Ha, Vice Chairman of the Foreign Affairs Committee of the National Assembly of Vietnam. The event was also attended by members of the National Assembly of the three countries.
The meeting discussed the first parliamentary summit between the three neighboring countries which will be hosted by the Lao National Assembly in December 2023, Vientiane Capital, under the theme: "The role of Parliament in promoting comprehensive cooperation between Cambodia-Laos-Vietnam".
The gathered parties discussed and agreed upon the theme, slogan, content, and format of the upcoming summit which will be organized in the spirit of friendship, love, and unity between Laos, Vietnam, and Cambodia.
The three delegations also expressed their opinions about every area of work that would be discussed at the summit and how to improve upon its content.