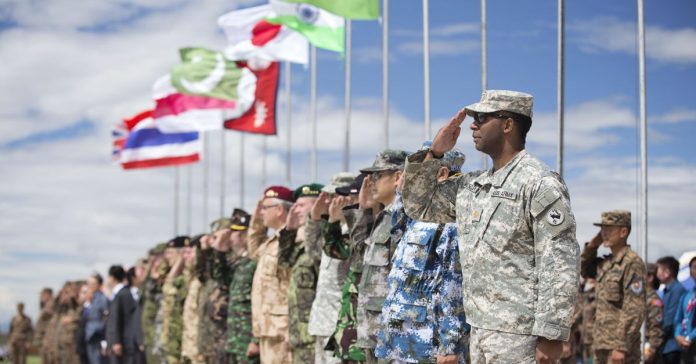 The annual multinational peacekeeping exercise, code-named Khaan Quest 2023, kickstarted its training at the Five Hills Training Area near the Mongolian Capital of Ulaanbaatar on Monday.
The 19th edition of the peacekeeping exercise is being attended by over 1,100 military personnel from 25 countries, including Laos, China, the US, Canada, South Korea, and India. The exercise is co-sponsored by the Mongolian Armed Forces (MAF) and the United States Army Pacific Command (USARPAC).
The 14-day exercise is aimed at enhancing cooperation between the participating nations, sharing experiences, and training uniformed personnel for the United Nations Peacekeeping Operations (UNPKO), which helps countries navigate the difficult path from conflict to peace.
The exercise will prepare participants for future UN Peacekeeping missions, develop peace operations capabilities and enhance military readiness. The two-week training includes Command Post Exercise (CPX), Field Training Exercises (FTX), combat discussions, lectures, and demonstrations.
"Mongolia always pursues peace-loving, open, independent, and multi-pillar foreign policy. The exercise has been making a significant contribution to increasing the peace support capacity of participating countries and strengthening their friendship and military trust," Ukhnaa Khurelsukh, president of Mongolia and commander-in-chief of the Mongolian Armed Forces (MAF) said at the opening ceremony.