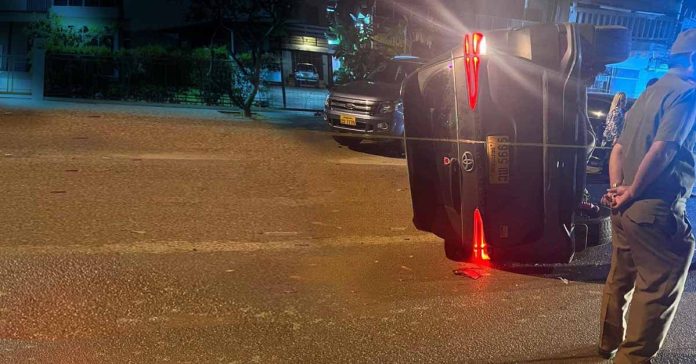 Vientiane Capital police have discovered over 5 million amphetamine pills in an SUV that flipped in the center of Vientiane Capital's Chanthabouly district.
Head of Chanthabouly Public Security Office in Vientiane Capital, Lieutenant Colonel Phonechai Phamongkhoun, said during an interview that an accident involving three vehicles was reported before police discovered millions of amphetamine pills at the accident scene on 15 June. 
The police found 5,494,000 amphetamine pills in a black Toyota Fortuner that crashed into two cars before capsizing on the road. 
Following the incident, the police in Vientiane attempted to identify the vehicle owner as the driver escaped the scene. 
According to Lieutenant Colonel Phonechai, the driver has not yet been arrested, but other suspects from the same drug trafficking network have been apprehended. 
"Further information about the drug bust cannot be revealed at this time as the police are still investigating the incident," said Lieutenant Colonel Phonechai. 
The police in Vientiane will continue to investigate the incident and prosecute the accused in the court of law.