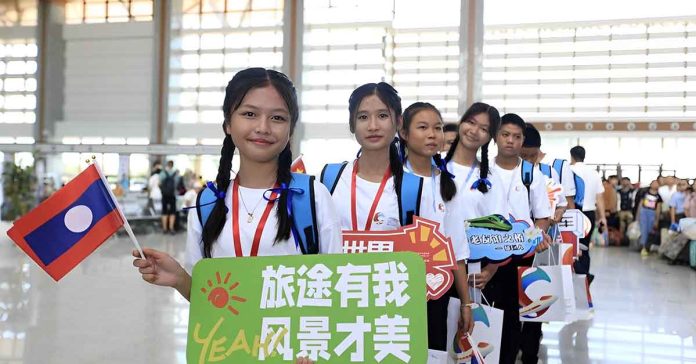 Lao students from Chomphet secondary school in Vientiane had the opportunity to learn more about the Lane Xang electric multiple units (EMU) trains on the Laos-China Railway on Wednesday while enjoying a scenic trip.
The event, organized by CRRC Corporation Limited, the producer of the Lane Xang EMU trains, aimed to provide students technical knowledge about the railways operations during a comfortable ride on one of its high-speed trains.
Anny Xayyasarn, a 14-year-old student, expressed her excitement about traveling on a train for the first time. Along the way, she enjoyed the remarkable scenery of the mountains and deep valleys while traveling from Vientiane to Luang Prabang. She made mental notes to go back home and tell her parents about this new experience.
"I hope to get a job with the railway industry after I've graduated in the future," said Anny.
This trip also allowed students to know more about the train's advanced technology from technical railway experts who spoke about how the railway was designed to showcase advance engineering work while protecting the environment as well.
Students also appreciated the convenience of traveling on the railway, which made it easier to experience the beautiful natural beauty of Laos, without driving for hours on end.
The Laos-China Railway is an important step in promoting education, as it facilitates affordable travel for students to study in China. The railway also assists with efficient transportation of goods, while making travel easier.
Sonesavanh Duangnouphone, principal of Chomphet School in Vientiane said, "Some children in Laos may be interested in working in the train industry, so, I believe this activity will surely inspire them."