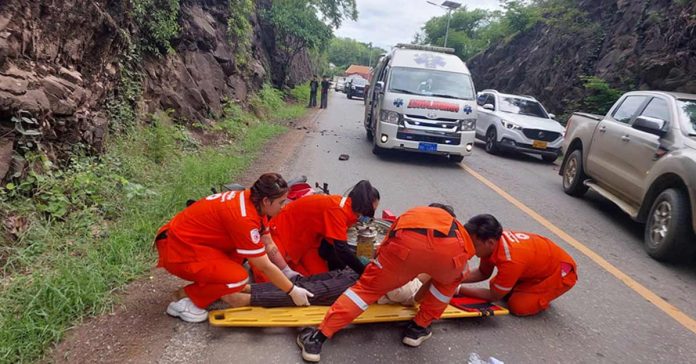 A motorcyclist sustained serious injuries last week, after being hit by a rock while traveling along a stretch of mountain road in Luang Prabang.
The incident occurred around 1:30 pm on Sunday near Vieng Mai Village. The victim, a female motorist, was immediately transported to a nearby hospital for urgent medical attention, according to the Luang Prabang Red Cross Emergency Rescue Unit.
The investigations into the incident showed that the victim fell from her motorcycle after being hit by rocks, which became dislodged from the mountainside after heavy rains and landed on the roadway, leading to the incident.
One of the rescue team members said that landslides were quite common in this area during monsoons, and motorcyclists must be careful while traveling. She added that the victim was not wearing helmet, which led her to suffer severe injuries and open wounds on her forehead.
The rescue team member said she is unsure whether the regional authorities have plans to improve the condition of landslide-prone roads in the province, but she is hopeful that they will resolve this issue in the near future.