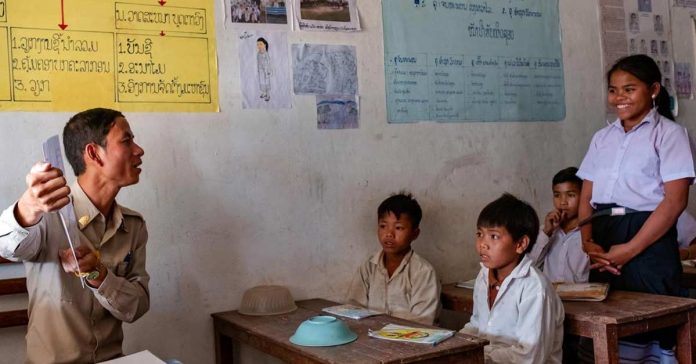 The Lao government is taking steps to address the shortage of teachers in rural areas, where many schools lack qualified teachers.
By increasing the quantity of education in rural areas, where many students are currently at a disadvantage, the government hopes to produce enough skilled professionals to help in the nation's development. To this effect, specific policies will be formulated over the next six months to appoint teachers, and Prime Minister Sonexay Siphandone will be updated on the progress being made.
To address the issue, in the ongoing 5th National Assembly (NA) session, several NA members pointed out that due to poor pay, many schools lack adequate teachers, which often leads to their closure or affects the quality of education being imparted. NA members asked the government to increase the minimum wage for teachers and other civil servants.
According to the Vientiane Times, Prime Minister Sonexay Siphandone has outlined a plan to increase the quota of allocated teachers, postpone retirement for experienced teachers, and coordinate with defense and security officials for teaching in remote border areas.
PM Sonexay added that the government will encourage the implementation of inclusive teaching methods in schools and vocational training institutes to decrease the student dropout rate in both urban and rural areas, as well as modify schools with no instructors into private schools to boost early childhood education.
The Ministry of Education and Sports approved a quota of 535 new civil servants in 2021, with 530 appointed as teachers and 5 as education personnel, all of whom were assigned to areas that were most in need of school faculty.
The government's plans are a positive step towards addressing a visible gap and lack of access in the field of education. However, it remains to be seen whether they will be enough to ensure that all students in Laos have access to quality education.