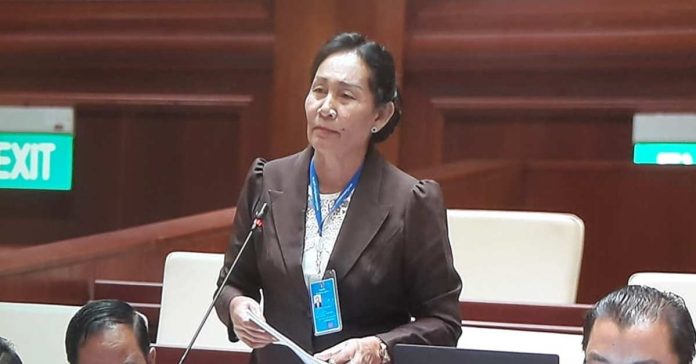 National Assembly members from various constituencies commented on the government's socio-economic development plan, state budget plan, and monetary plan during the ongoing 5th ordinary session of the 9th National Assembly in Vientiane Capital, and urged for measures to assist its suffering economy.
Mrs. Saysomsuen Photisan, a NA member from Savannakhet asked the government to increase the minimum pay for teachers and other civil servants, whose cost of living has been drastically affected due to soaring inflation rates in the country. 
With the prices of essential commodities like food, fuel etc. going up, she pointed out that many families are unable to send their children to school due to increased pressure on their finances. Due to poor pay, many schools lack adequate teachers as well, which often lead to their closure or affects the quality of education being imparted.
Mr. Sthabandith Insiengmay from Houaphanh province also raised the topic of income, especially for domestic laborers, who are unable to make ends meet, even with the recently increased minimum wage from LAK 1.2 million to LAK 1.3 million last year. He added that the basic salary being offered at the moment is out of step with the present economic circumstances, forcing many workers to seek jobs in other countries.
He proposed raising the minimum wage to an average of LAK 1.8 million to LAK 2 million, pointing to a 2023 Institute of Trade survey that found 70% of small and medium enterprises are on board to raise the minimum salary for the survival of workers.
Additionally, Mr. Sthabandith addressed the lack of sufficient foreign exchange reserves as primarily responsible for causing inflation, as Laos imports most essential products which need to be purchased in foreign currency. Low availability of foreign currency also depricates the value of LAK which makes the process of importing goods more expensive and also leads to an exponential increase of their prices in local markets. 
He said that the Central Bank is tackling the problem of inflation by passing legislation to shut unauthorized currency exchange shops, and he urged the Central Bank to strengthen administrative controls to encourage the entire country to use Lao currency for the purchase of goods and services.

In Laos, there has been an uptick on year-on-year inflation this month, once again leading to a significant increase in living costs, including food, beverages, transportation, and health and medical equipment.