After a successful four-year stint as the Ambassador of Singapore to Laos, Leow Siu Lin sat down with Laotian Times to reflect on her diplomatic journey in the country, key achievements, challenges, and what she'll miss most about her life in Laos.
The ambassador of Singapore to Laos Leow Siu Lin, first came to the country in 2000 as a visitor, to meet her friend who was posted in Vientiane as the Ambassador. She was struck by how serene, green, and quiet her surroundings were, and was enamored by the majestic Mekong River which offered unparalleled views of the sunset. She was also excited to try out the spicy and delectable Lao food, alongside Laos' famous coffee, of which she was an instant and ardent fan. 
Almost two decades later, after serving in Ho Chi Minh City, Vietnam for six years as Consul General, the ambassador arrived in Laos in 2019 to head Singapore's diplomacy mission in the country. Soon after, the world shut down during the Covid-19 pandemic, which she considers the biggest challenge during her four years in Laos. But she and her team adapted quickly to the "new normal".
"For example, a big part of the work our Embassy does is capacity building and human resource development. We conduct many workshops and training programs at our Laos-Singapore Cooperation Centre on Thadeua Road. We quickly equipped the center with video conferencing facilities so that the training and workshops could still be conducted while the trainers remained in their countries. 
"Once stricter restrictions on gatherings were implemented, we moved all our training and workshops online. I'm proud to say that during the pandemic period, we still managed to conduct 31 courses for government officials, so our work never stopped," says Ambassador Leow Siu Lin.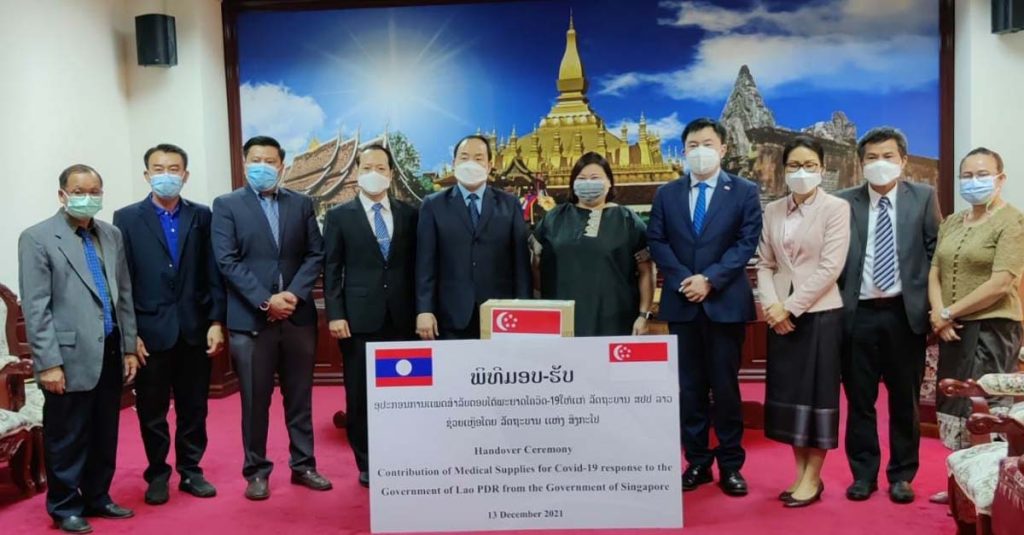 She goes on to add that her diplomatic experience in Laos has been very positive. The Lao government has been supportive of the Singapore embassy's work, which further led to the forging of good relationships with many officials across different ministries. 
Considering the longstanding ties and goodwill between the two countries, their bilateral cooperation spans a number of areas – political, economic, education, environment, and people-to-people ties, to name a few. And the Ambassador adds that her main objective has been to build upon this solid foundation and deepen relations by exploring cooperation in new areas. 
The most vital area of cooperation has been the development of human resources in Laos. 
"Both Singapore and Laos have relatively small populations, so we must maximize our human resources. If we look back to Singapore's development journey, human resource development was placed as a priority when we became independent because people were the only resource we had," says Ambassador Leow. 
It was in this spirit that Singapore established the Singapore Cooperation Programme (SCP) in 1992, to provide capacity-building courses and support the development of its partner countries. 
"So far, we have trained almost 16,000 Lao officials under the SCP. This constitutes around 11% of all the officials we have trained around the world. We are honored to be able to count distinguished leaders such as President Thongloun Sisoulith, Vice President Pany Yathotou, and many ministers, governors, and deputy ministers amongst our SCP alumni," says the ambassador.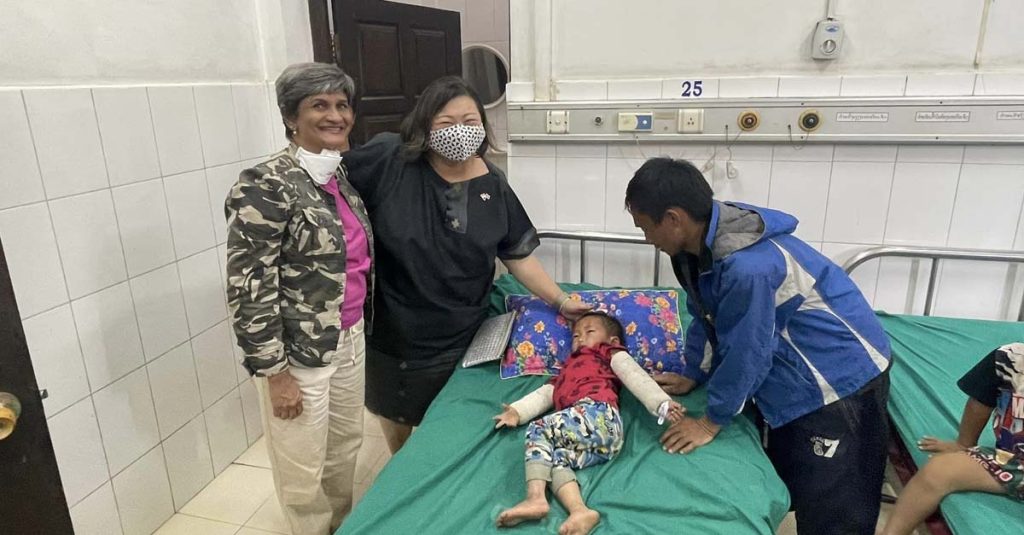 The Embassy of Singapore in Laos also tries to ensure that its programs remain relevant and useful to Laos by working closely with the Lao Ministry of Foreign Affairs (MOFA) and key Lao ministries and agencies to formulate the mix of training courses each year as well as to curate specialized training programs. 
"Apart from the facts and figures, what gives me the most encouragement is hearing from many officials how they enjoyed and benefitted from those courses. They tell me that the lessons they learned during the courses have stayed with them even up till today," she adds.
Laos and Singapore have had a long-standing collaboration in the area of sustainability and the two countries have initiated new cooperation efforts in the fields of energy and digital exchange as well. 
She says, "On sustainability, our National Environment Agency and Public Utilities Board conducted a course in water resource, stormwater, and environmental management for the Ministry of Natural Resources and Environment in June 2022 through our Singapore Cooperation Programme. The haze has also been a common problem that both Singapore and Laos share and Singapore has been extending assistance to Laos through the ASEAN Specialised Meteorological Centre (ASMC). The ASMC provides regular assessments on weather and hotspots, and I think this helped Laos in coordinating responses to fires."
The Singaporean Ambassador described energy as "a new and exciting area of bilateral cooperation" as the Laos-Thailand-Malaysia-Singapore Power Integration Project began in 2022, marking Singapore's first-ever import of renewable energy and serving as a stepping stone toward the establishment of an ASEAN Power Grid. This project enabled the import of 100 megawatts of renewable energy from Laos, which helps to power around 140,000 homes.
In addition to energy cooperation, she revealed that Singapore is working on its own Energy Transition to decarbonize the power sector by enhancing the efficiency of natural gas power generation, accelerating solar deployment, and developing emerging low-carbon alternatives like hydrogen, and regional grids.
"In the digital sphere, Laos has actively participated in some significant technology-related conferences, including Singapore International Cyber Week and the Asia Tech x Singapore Summit that Singapore organizes annually to drive strategic conversations across business, technology, and policy for our shared future," says the Ambassador. 
After the conclusion of her mission in Laos, a new challenge awaits Ambassador Leow in her home country. She will be seconded to Singapore's Ministry of Social Welfare and Family (MSF), heading up its international Relations department after 38 years of working in the Ministry of Foreign Affairs.
"I am confident that my successor will continue to promote our excellent bilateral relations and I would encourage him to visit different provinces of Laos and to embrace the culture and appreciate the beautiful handicrafts in this country," she says.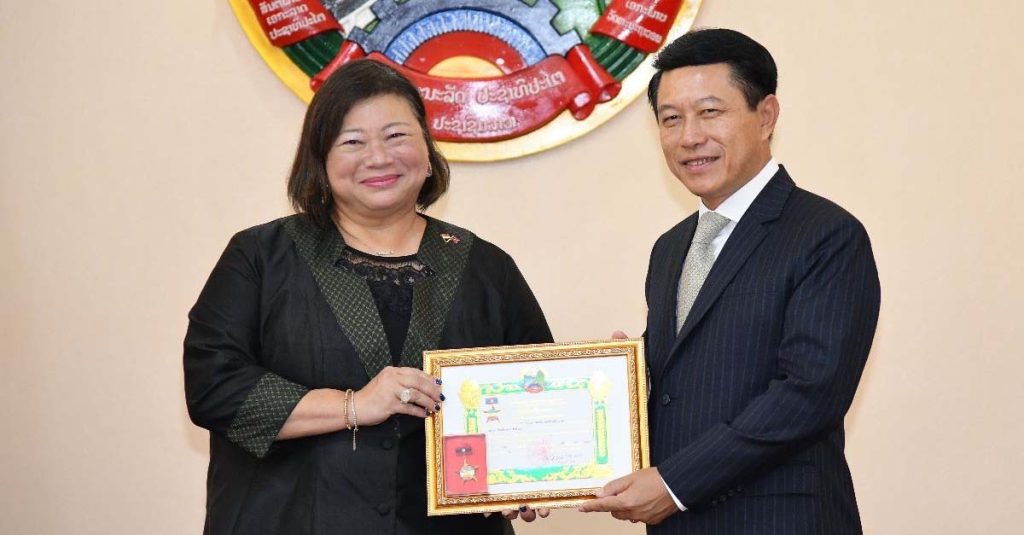 A farewell is never easy, and the Ambassador says that what she'll miss most about Laos is the country's warm and friendly people who have always greeted her with a smile. The beautiful natural landscapes and delicious wholesome cuisine of Laos will remain fond memories for the Ambassador as well.
"During my four years here, I did my best to promote our bilateral ties and look for new areas of cooperation and I am happy that I am leaving with our account in good order," she concludes.