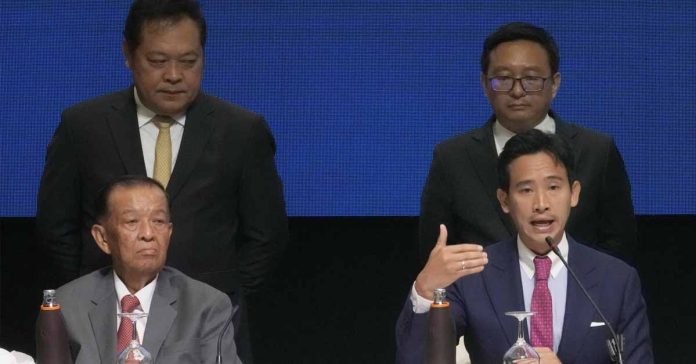 BANGKOK (AP) — Thailand's new government took a step closer to forming with the speaker of the House of Representative chosen Tuesday in what has been an arduous task before the next prime minister is named.
The House vote for prime minister is the next major move, expected next week. The leader of the surprise election winner Move Forward Party, 42-year-old businessman Pita Limjaroenrat, has faced strong opposition from conservative lawmakers in his bid to take the job. A successful candidate must have the backing of a combined majority of the elected lawmakers in the Lower House and the military-appointed Senate, which represents the country's traditional ruling class.
Wan Muhamad Noor Matha, the Prachachat Party's veteran leader who is better known as Wan Noor, was the sole nomination for the speakership and was automatically chosen with no house vote required.
"I will perform my duty with political neutrality," Wan Noor gave a speech after the nomination. "I will perform my duty with transparency, honesty, and I will fully comply with the constitution and the rules of the parliament."
The House Speaker position was highly sought after as it could influence the passage of legislation. Move Forward said it needed the post to ensure its progressive policies, often blocked by conservative lawmakers, will pass through. But many members of the populist Phue Thai Party insisted that their party should take the crucial post as it was the second winner of the election.
Weeks of tensions between the two parties over the speaker's post had raised concerns over the unity of their coalition and added to the anxiety Move Forward is facing in forming a government, but the proposals Tuesday went according to a compromise the two parties made the day before.
Move Forward and Pheu Thai, the two biggest parties in the coalition, each got a candidate endorsed for the two deputy speaker posts.
Several Move Forward supporters expressed their disappointment in the speaker deal, fearing it would be seen as the party backing down, which could undermine their reform agendas. Party leader Pita wrote Tuesday on Facebook that the decision was reached in order to "preserve the unity of the work among parties of the coalition government" and that he fully trusts Wan Noor will serve the post with integrity and for the right causes.
The general election in May saw Move Forward and Pheu Thai score a major win over parties in the army-backed ruling government. The victory alarmed the country's conservative ruling establishment — especially with Move Forward, which they regard as radical and a threat to the monarchy because of modest reforms it had proposed during the election campaign.
The election results reflected a public weary of nine years under Prime Minister Prayuth Chan-ocha, who as army commander seized power in a 2014 coup. He was returned as prime minister after the 2019 election.
___
BY JINTAMAS SAKSORNCHAI Associated Press