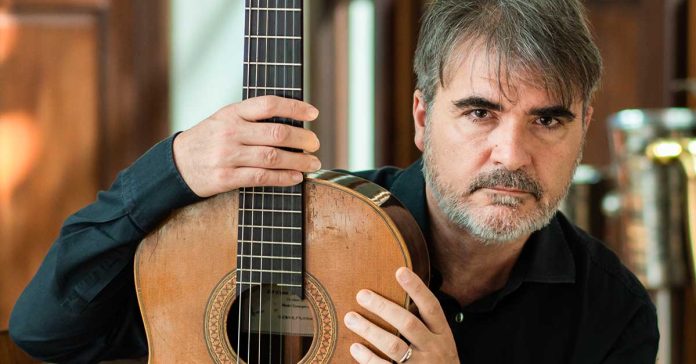 Internationally renowned Spanish musician Rafael Serrallet will offer a masterclass and perform a classical guitar concert at the National University of Laos in Vientiane Capital, Laos on 11 July at 1:30 pm.
After performing concerts literally in more than half the world, Rafael Serrallet will perform for the first time in Vientiane on Tuesday. Serrallet will present a carefully curated selection of Spanish guitar repertoire, showcasing a variety of musical pieces. The concert will feature some of the most popular melodies of Spanish guitar as well as works by lesser-known composers. It will be a musical journey through Spain, taking us through different eras and introducing us to various Spanish composers such as Albéniz, Tárrega, Granados, and more.
Serrallet is a musician with a long and successful artistic career. With nearly 30 years of experience and countless concerts in the world's most prestigious concert halls, he has been recognized on numerous occasions and was awarded a Guinness World Record for being the first musician to perform on all continents (including Antarctica) in less than 6 months.
Among the solo performances he has given, notable venues include Lincoln Center and Carnegie Hall in New York, Chicago Cultural Center, Liceu in Barcelona, Maestranza in Seville, Konserthus in Oslo, National Theater of Croatia, Sala Lutowslasky in Warsaw, Esplanade in Singapore, Petronas Philharmonic in Kuala Lumpur, Mohamed V Theater in Rabat, Cairo Opera House, National Theater of Panama, Cultural Center of the University of San Marcos in Lima, National Theater of Managua, and Piata Mare in Sibiu, where he performed an open-air concert in front of thousands of people.
Rafael is much more than a guitarist; he is a well-rounded musician who also wants to share his passion for music with all audiences. Rafael Serrallet believes that music is an excellent tool for social integration. That is why he gets involved in various educational musical projects that aim to bring the wonderful world of music to as many people as possible, especially those who are less fortunate.
Serrallet's visit is just one of the cultural cooperation initiatives being undertaken by the Spanish Government to strengthen the ties between Spain and Laos. These initiatives also include collaborations with Spanish language classes at the university.