SINGAPORE –
Media OutReach
– 13 July 2023 – EVYD Technology and the Agency for Science, Technology and Research (A*STAR) have established a joint lab to advance AI research for population health and digital health
[1]
, to enhance healthcare solutions and drive positive impact for patients.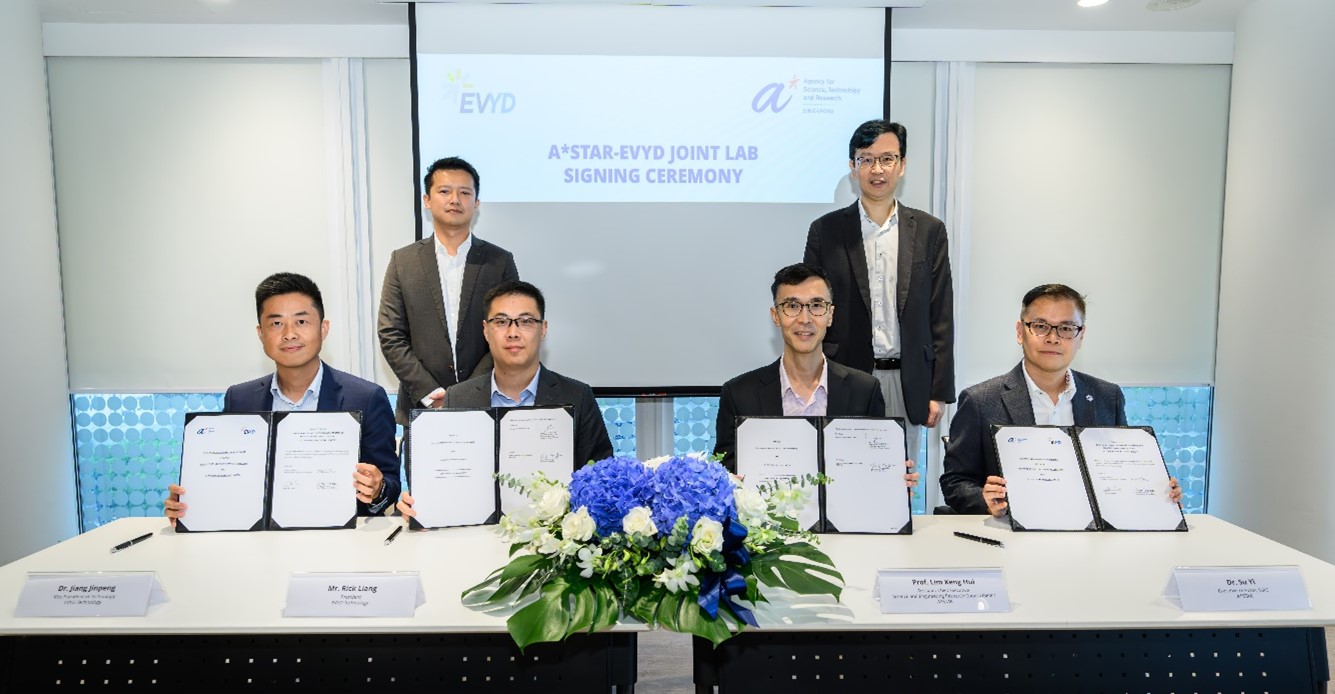 The A*STAR-EVYD Joint Lab aims to address various healthcare challenges through the application of AI. These include: (I) developing a health domain data collection and wellness score, supported by behavioural science to encourage the adoption of healthy habits like nutrition and mental well-being; (II) exploring a health concierge service that employs large language models in a healthcare context; (III) using remote health monitoring for early detection of health issues, enabling healthcare providers to optimise treatment plans, enhance patient outcomes and improve capacity planning; and (IV) streamlining diagnostic workflows and improving accuracy to assist clinicians in data interpretation and diagnostic evaluation.
In addition, the joint lab will contribute to addressing Singapore's healthcare needs through the following efforts:
R&D in technologies aimed at tackling industry-specific challenges for population health and digital health;
Pilot testing and deploying innovative AI-driven medical data processing, secure data technologies for validated practical applications outside laboratory settings, increasing confidence levels to pave the way for large-scale adoption by stakeholders;
Facilitating knowledge sharing amongst the healthcare communities by organising workshops, seminars or conferences that bring together researchers, industry professionals and ecosystem stakeholders.Under the joint lab, EVYD Technology and A*STAR will embark on a S$10 million project to develop a platform for facilitating multi-institutional, cross-border collaborations in digital health. A*STAR's Institute of High Performance Computing (IHPC) will lead this effort. The platform targets to tackle the regulatory limitations and concerns associated with data sharing across entities and borders. By incorporating secure data technologies such as AI-driven federated learning, healthcare entities can keep sensitive data within their own information technology infrastructures instead of transmitting it to a central server. Through such innovations, the platform aims to facilitate efficient collaboration among local and international healthcare providers, research institutions, and healthcare companies to co-create innovative healthcare solutions.
"The A*STAR-EVYD Joint Lab is a strategic collaboration that holds tremendous potential for transforming patient outcomes on a global scale. By leveraging artificial intelligence, advanced data processing techniques, and privacy-preserving technologies, EVYD Technology and A*STAR's IHPC aim to push the boundaries of what is achievable in population health and digital health," said Mr Ming Jie Chua, Chief Executive Officer, EVYD Technology
"The establishment of the A*STAR-EVYD Joint Lab will serve as a dynamic platform to foster collaboration with the healthcare community and facilitate cross-sector partnerships. Together, we will work towards advancing AI-driven digital health solutions that can enhance patient outcomes and population health. This partnership signifies A*STAR's commitment to developing more AI applications in healthcare, to better address the evolving healthcare challenges of our time," said Prof Lim Keng Hui, Assistant Chief Executive, Science and Engineering Research Council, A*STAR
____________________________________________________________________
[1]
Population health refers to the health outcomes of a group of individuals and focuses on improving the overall health and well-being of a community, while digital health refers to the use of digital technologies to improve patient outcomes, enhance healthcare delivery and facilitate communication between patients and healthcare providers.
Hashtag: #EVYDTechnology #ASTAR #ASTAREVYDJointLab #PopulationHealth #DigitalHealth #ArtificialIntelligence

https://www.linkedin.com/company/eyvd-technology/

https://www.instagram.com/evydtech
The issuer is solely responsible for the content of this announcement.
About EVYD Technology
EVYD is a Southeast Asia-based healthcare technology company with a vision to build a future where everyone can access better health. We leverage our deep expertise in healthcare data processing and AI to enable our partners to gain insights for informed decision making in healthcare and implement personalized health promotion, risk assessment and chronic disease management programmes at scale to improve population health outcomes.

For more information, visit

https://www.evydtech.com.

About the Agency for Science, Technology and Research (A*STAR)
The Agency for Science, Technology and Research (A*STAR) is Singapore's lead public sector R&D agency. Through open innovation, we collaborate with our partners in both the public and private sectors to benefit the economy and society. As a Science and Technology Organisation, A*STAR bridges the gap between academia and industry. Our research creates economic growth and jobs for Singapore, and enhances lives by improving societal outcomes in healthcare, urban living, and sustainability. A*STAR plays a key role in nurturing scientific talent and leaders for the wider research community and industry. A*STAR's R&D activities span biomedical sciences to physical sciences and engineering, with research entities primarily located in Biopolis and Fusionopolis. For ongoing news, visit

www.a-star.edu.sg.

Follow us on


Facebook |

LinkedIn |

Instagram |

YouTube |

Twitter