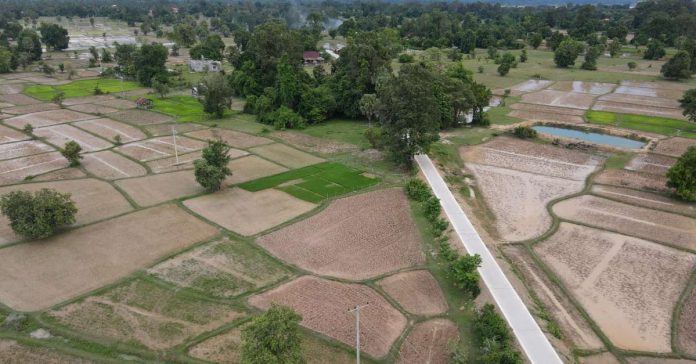 Concrete and asphalt roads were constructed on Don Deth and Don Khone islands in Champasack province, which was Phase II of an infrastructure development project to improve tourism in the area.
With funding from the Asian Development Bank (ADB), a 2,800-meter concrete road was built from National Road 13 South to the boat dock in Nakasang village, and a 15 kilometers long and 2.9 meters wide asphalt road was constructed to link Don Deth and Don Khone islands.
Don Deth and Don Khone islands are located on the Mekong River in Khong District in Champasack and were once accessible only by motorcycles and bicycles despite long being popular with tourists visiting the Siphandon area, aka the 4,000 Islands.
Popular for their quaint countryside and laid-back atmosphere, these two islands also saw the construction of streetlights and an embankment to prevent flooding.
The new roads and facilities will provide easier access for tourists to visit the islands, which will in turn benefit local businesses by increasing tourism and creating jobs. Better roads will also improve safety by reducing congestion and making it easier for emergency services to access the area.
Before the COVID-19 pandemic hit three years ago, Vientiane Times reported that Champasack province attracted at least 700,000 visitors each year. However, the province only recorded 191,000 visitors last year. Tourism officials in Champasack province are optimistic that the new roads and other infrastructure projects will boost tourism in the region.
Local authorities are confident that the province has a lot to offer tourists, including its natural beauty, cultural attractions, and easygoing atmosphere. Some popular sites include the UNESCO heritage site of Vat Phou Temple and the natural wonders of Khonphapheng, Tad Fan, and Tad Yeuang waterfalls.
In addition to the new roads on Don Deth and Don Khone islands, many other tourist areas are now being developed in Laos, such as an access road at the Nam Ngum 1 dam, Kaeng Yui waterfall, and Nam Song River in Vang Vieng.
While these projects benefit local communities, they can also cause increased traffic congestion and pollution, which may negatively affect the ecosystem and the natural beauty of the areas. These effects, however, can be reduced with good planning and management on behalf of authorities while setting up tourism facilities within the country.