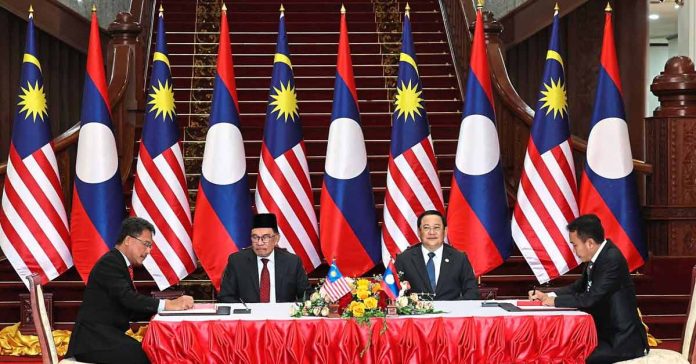 Kuala Lumpur (The Star): Malaysia and Laos have marked an important milestone in cross-border railway movement with a memorandum of collaboration signed between their respective rail operators.
The documents were signed between Keretapi Tanah Melayu Bhd (KTMB) and Lao National Railway State Enterprise (LNRE).
KTMB was represented by group chief executive officer Datuk Mohd Rani Hisham Samsudin while director-general Daochinda Siharath signed on behalf of LNRE.
Prime Minister Datuk Seri Anwar Ibrahim and Laos Prime Minister Sonexay Siphandone were present to witness the ceremony.
According to KTMB, the collaboration would enhance cross-border railway operations between the two nations.
The newly established line, it said, had successfully connected the ASEAN railway network to wider corridors along the Trans-Asian Railway Network, opening new possibilities for international rail travel.
It is also aligned with the framework of the high-speed Singapore-Kunming Rail Link platform, which forms an important part of the Belt and Road Initiative.
KTMB's collaboration with LNRE will involve the transfer of technology and knowledge, where both parties will share expertise to formulate its own railway operations.
The partnership also opens the door for KTMB to explore opportunities in the passenger sector.
This includes cross-selling tickets through a single ticketing platform to provide smooth passenger mobility by rail between Malaysia and Laos.
According to Mohd Rani, KTMB recognized a significant opportunity to extend its cargo landbridge service and allow both entities to conduct smooth cross-border railway operations within Asean to China and beyond.
It will then strategically position KTMB as the regional logistics player, in collaboration with its counterpart in Asean, he said.
He added: "Transporting goods along this railway corridor offers substantial advantages to customers in the region, including enhanced capacity and significantly reduced transportation time to China."
Mohd Rani said the rail journey would now take about eight days compared to sea transport, which typically took 14 to 21 days.
Laos is strategically positioned as an important center for connectivity within Asean, which makes it possible to facilitate efficient management of supply chains within and between Asean, China, and Europe.
Laos has also distinguished itself among ASEAN countries for its remarkable advancements in the development of railway infrastructure.
The country's construction of a new standard gauge railway line spanning 422 km from Vientiane to Boten was successfully completed in 2021.