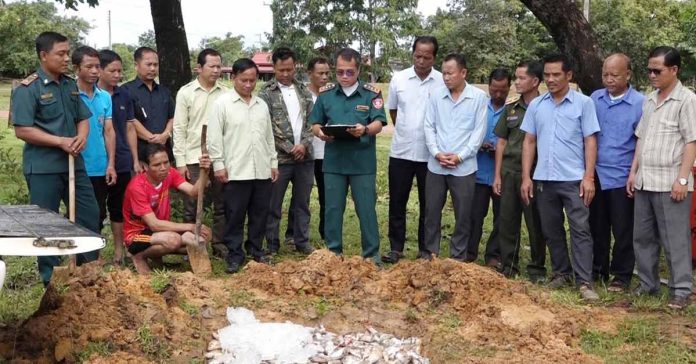 Authorities in Attapeu province destroyed 207 kilograms of fish on Tuesday that had been confiscated from local fishermen during a ban on fishing during the spawning season.
The fish was seized by a team of forest inspection officers and local authorities during a patrol of the area around the Xekaman 1 Dam Hydropower Project on Saturday.
Mr. Athideth Ninthilath, Head of the Sanxay District Forestry Inspection Unit, said that the team found a vehicle carrying 200 kilograms of fresh fish and seven kilograms of dried fish.
The fish were confiscated because they had been illegally caught during a total ban on fishing during the spawning season, Lao National Radio reported.
The ban on fishing was issued on 14 June to protect aquatic animals and is in effect from June to August, to give the fish time to repopulate.
Following the seizure, officers of the Forestry Inspection Unit educated the fishermen about the regulations.
Mr. Athideth added that the Forestry Inspection Unit has been proactively inspecting the purchase and sale of aquatic animals and other wild animals during the fishing ban period and has also been disseminating regulations, laws, and orders related to the inspection and management of aquatic animals and wildlife to the public.
The destruction of the fish was meant to deter would-be illegal fishers and show the public that the government is serious about protecting fish during their spawning season.
Recently, local authorities in Bolikhamxay province also destroyed 4,000 kg of illegally imported fresh chilies at the Nam Phao Border checkpoint.
Social media users' reactions to the destruction of the illegally-caught fish were divided. While some users have supported the government's actions, many have criticized the destruction as a waste of food that could have been put to better use.