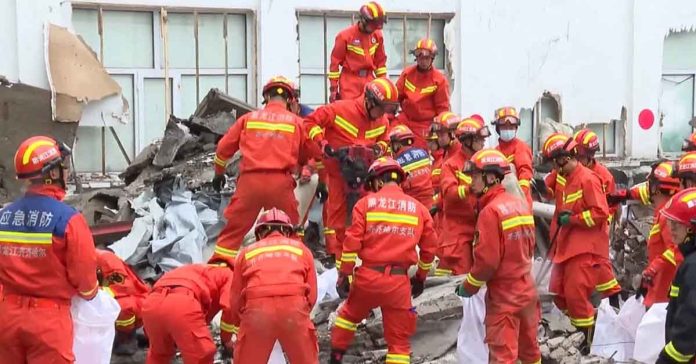 A devastating incident occurred at a middle school in northeast China's Heilongjiang Province that saw the roof of a school gymnasium collapse, resulting in the loss of eleven lives on Sunday.
According to a report from the Global Times, the Number 34 Middle School in Qiqihar was hosting a training session for its women's volleyball team when the roof of the gymnasium suddenly collapsed.
At the time, two coaches and 17 players were inside the gymnasium, with a total of 19 individuals present. Thankfully, four individuals managed to escape unharmed, but the remaining 15 were caught under the rubble.
The official update on Monday morning confirmed a death toll of eleven, highlighting the severity of the incident.
In response, Mayor Shen Hongyu took to the public platform to express his deep condolences and offer an apology.
He acknowledged that this was the most serious safety incident in recent years for Qiqihar, causing immense pain to the affected families. Mayor Shen emphasized the heavy cost and the profound lessons learned from this tragic event.
Further investigations revealed that the collapse occurred due to the construction unit's illegal stacking of thermal insulation material, perlite, during the construction of the adjacent teaching complex building. The perlite, a construction material used for thermal insulation, had been placed on the gymnasium roof.
Under the influence of heavy rainfall, the soaked perlite significantly increased in weight, exceeding the roof's capacity and leading to its collapse. Construction engineers noted that the weight of a bag of perlite increases approximately ten times when soaked in water.
Following the incident, the Chinese Ministry of Emergency Management held a meeting on Monday to address safety concerns at schools and sports venues across the country. They urged relevant departments to learn from this tragic accident and conduct inspections to rectify any hidden dangers promptly.
The Ministry also stressed the importance of enhanced daily management to prevent similar incidents from occurring.
According to Chinese lawyers who talked to Global Times, if more than one person dies or more than three people sustain serious injuries during construction, it can be deemed a major liability accident crime.
The construction company is expected to bear legal responsibility according to the law. While the school may not be held criminally liable, it is also obligated to assume some responsibility for the accident.