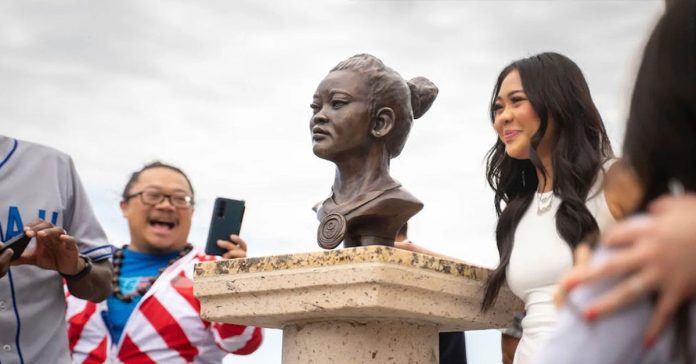 The city of St. Paul, Minnesota, unveiled a sculpture of Hmong American Sunisa Lee on Sunday after the gymnast won gold in women's all-around gymnastics at the 2020 Olympics in Tokyo.
Sunisa, 20, was born and raised in St. Paul, and she became the first Hmong American to win an Olympic gold medal. Her mother was a refugee from Laos who came to the United States as a child.
The unveiling of the sculpture of Sunisa, which took her and her parents by surprise, took place in Minnesota as part of "Sunisa Lee Day," a day dedicated to honoring her achievements and character.
The ceremony saw the attendance of about 100 people, including St. Paul Mayor Melvin Carter, Lieutenant Governor Peggy Flanagan, and City Council members, Sahan Journal reported.
To the rest of the world, Sunisa is "the champion," but in St. Paul, she is "our champion." said Mayor Carter. "She makes St. Paul proud, and we are grateful for her."
Sunisa Lee is the second female athlete to be honored in the St. Paul Park system.
Expressing her gratitude and pride in her community, Sunisa said, "I wouldn't be here without your support."
St. Paul Parks Director Andy Rodriguez said that while the new piece of art will honor Sunisa Lee and all that she has accomplished, it will also inspire the next generation of St. Paul's young people to pursue their dreams.
In addition to her Olympic gold medal, Lee has also won numerous other awards, including Sportswoman of the Year, NCAA balance beam Champion, all-around silver medalist in 2022, Illustrated Female Athlete of the Year in 2021, and more.
Sunisa is currently training for the 2024 Olympics, where she will be competing for a spot on the US Olympic gymnastics team. The 2024 U.S. Olympic Team Trials will be held at Target Center in Minneapolis next June.